Trucks Move 72% of Our Goods, Will Infrastructure Capacity Force This to Shift?
Finding alternative fuel and alternative ways of transportation is something that many are pushing forward in order to help the environment. Electric cars are starting to be more common, but when it comes to freight trucking, there is no such option. We asked energy influencer and host of the Drive Clean podcast, Lynn Lyon: Will there be a bigger push to move away from big trucks to move goods to make up for the lack of eco-friendly options?
Right now, trucking is a major part of transporting goods across the country. According to the ATA, 72% of all freight transported in the U.S. in 2019 was through trucking. With such a demand, how can fleets managers cut down on emissions? This is what Lynn Lyon had to say.
Latest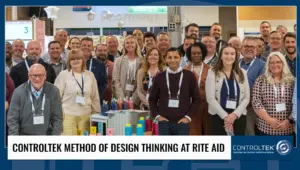 December 4, 2023
The video showcases a dynamic workshop titled "CONTROLTEK Method of Design Thinking at Rite Aid," highlighting the collaborative and innovative efforts between CONTROLTEK and Rite Aid teams. It features scenes of brainstorming, prototype development, and group discussions, emphasizing CONTROLTEK's customer-centric approach to problem-solving and innovation in retail solutions. The workshop demonstrates how cross-functional teams […]
Read More