U.S. imports remain down but an uptick is on the horizon, experts say
Container throughput at the top ten U.S. ports is continuing to fall this year as the nation's retailers, already overstocked with last year's goods, have reduced their imports from overseas suppliers.
The throughput decline is slightly greater at U.S. West Coast ports due to shippers diverting cargoes away as dockworkers and their employers continued their year-long negotiations over a new labor contract.
But industry analysts expect the downturn will change in the third or fourth quarter this year.
For April, the U.S. saw imports totaling around 1.7 million Twenty-foot Equivalent Units (TEUs), the standard term of measurement for containerized cargo.
The 1.7m TEU figure was down 21.55% from the roughly 2.2m TEUs that came through the nation's leading ports in April 2022.
The year-on-year (yoy) figure of -21.55% was closely matched by the year-to-date (ytd) figure for the nation which has seen a 21.44% drop in throughput the first four months of 2023 as opposed to the same period in 2022.
In regional terms, the U.S. West Coast ports had a yoy decline of 21.94%, while the East Coast ports were down 22.48% yoy. The Gulf Coast, represented in the Top Ten by the Port of Houston, was down too, coming in at -13.65%.
In ytd terms, the West Coast has seen a loss in market share of around 3.54%, with just over 2% of that lost cargo gone to Houston on the Gulf Coast and around 1.54% arriving at East Coast ports.
Experts put the diversion of cargo down to shipper concerns over the prolonged negotiations between dockworkers and their employers.
However, the general downturn in U.S. imports comes largely as retailers, already overstocked with goods from last year, have been reticent to order more goods—especially as the nation's warehouses and distribution centers are said to be lacking in room for additional imports.
The market for industrial space remains tight all across the country, according to industrial real estate specialists CBRE, but it is especially so in the Los Angeles region, which is home to the nation's largest port complex at San Pedro Bay.
"Los Angeles County contains North America's two largest ports and one of the largest population concentrations," said Bret Quinlan, CBRE Executive Vice President.
"Demand for big-box product is robust but a vacancy rate under 1% has subdued leasing activity. This trend will continue since there is little land to develop. Rental rates will continue rising due to constrained supply, despite a softening economy," he said.
The tight market for industrial space (warehouses and distribution centers) means that shippers have few options for storing new goods until their present inventories are sold down.
This has had a depressing effect on exports out of China, according to trade consultants FourKites, which told Seatreade Maritime News that "it tracked a 44% decline in the volume of shipments to the U.S. from China between April 2022 and April 2023."
One concern stemming from such a decline in exports from China is that the country's manufacturing base may be weakened, becoming unable to produce enough goods to meet the demand eventually expected from the U.S.
Such a supply crunch came in the early spring and summer of 2020 when the number of goods into the U.S. fell to drastic lows after Chinese factories were closed due to lockdown procedures against the spread of Covid-19.
While this may be a possibility down the road, it is not one that FourKites currently foresees happening.
Glenn Koepke, General Manager of Network Collaboration at FourKites, expects global container volumes will rise in the third and fourth quarter, but that they will be lower than seen in 2022 "which should equate to an easing of delays and available capacity heading into peak trade seasons."
Photo caption: Port of Los Angeles sees throughput this year similar to 2020
Photo credit: Port of Los Angeles
Latest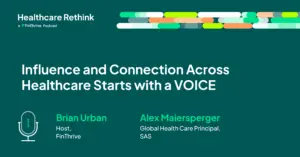 September 29, 2023
In the latest episode of the Healthcare Rethink podcast, presented by FinThrive, host Brian Urban sits down with Alex Maiersperger, the Global Principal Healthcare at SAS. Their conversation charts the role voice plays in influencing and connecting the healthcare industry. Maiersperger, who co-founded the Advancement League, shares his journey from being a healthcare optimist to […]
Read More