Watch: Bombardier and 3 Points Aviation Enter into a Collaborative Agreement
Bombardier Commercial Aircraft and 3 Points Aviation are teaming up. Under the agreement, Bombardier will provide engineering specifications to assist 3 Points Aviation gain parts manufacturer approvals from aviation authorities. "3 Points is excited to be collaborating with Bombardier for the mutual support of Q Series aircraft operators and the availability of the resulting PMA parts is a game changer," said John Druken, CEO of 3 Points Aviation.
Bombardier operators will have the choice to purchase OEM-produced parts or PMA parts manufactured by an authorized third party. The FlightAdvantage program is further enhanced by 3 Points Aviation's capabilities as a Transport Canada approved parts manufacturer and MRO supplier.
"This is another way in which Bombardier is identifying and developing new opportunities to provide greater value and support to our customers." – Todd Young, CEO, Bombardier
Latest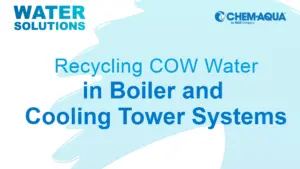 December 7, 2023
For the latest episode of ChemAqua's Water Solutions podcast, the focus was on an innovative approach to water conservation in the dairy industry. The show examined the potential of reusing Condensate of Whey (COW) water, a byproduct of dairy processing, and highlighted some of its economic and environmental benefits. Hosted by Dani Waddell, the informative […]
Read More