Watch: TSA Trusted Traveler Program is Now Available for Six More Airlines
Airport security is about to get a little easier for six more airlines. The Transportation Security Administration is expanding again, adding six more airlines to their trusted traveler program. The airlines include Air Serbia, Condor Airlines, Porter Airlines, SAS Scandinavian Airlines, and Thomas Cook Airlines.
PreCheck is available when departing from a US airport to a foreign country, and for domestic, connecting flights after returning to the US. US citizens, US nationals and lawful permanent residents of the US can apply to join. Interested applicants will pay $17 per year or $85 for five years through the TSA PreCheck application. Happy Flying!
Latest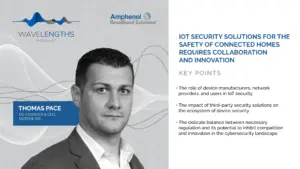 November 28, 2023
Since the introduction of smart devices, the world has increasingly become dominated by interconnected devices but IoT securitydemands are also growing. The "connected home" has shifted from what was once a futuristic concept to reality. With the global smart home market projected to reach $135.3 billion by 2025, the conversation around the security of these […]
Read More