Watch: Waymo and Jaguar Partner for Vast Self-Driving Car Fleet
Waymo announced the partnership Tuesday, which will see the mobility company buy 20,000 Jaguar I-Pace all-electric SUVs. Its big, fast-charge battery means it can drive all day, which is perfect for our self-driving service John Krafcik, chief executive officer of Waymo.
Waymo said will launch its autonomous-drive ride hailing service later this year. The Waymo and Jaguar deal runs through 20256. The reveal comes on the heels of an fatal accident in which an Uber test vehicle struck a pedestrian in Arizona while in autonomous mode.
Latest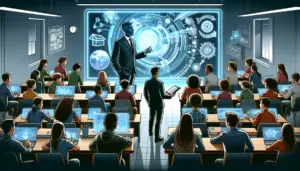 November 27, 2023
In an era where education stands at the crossroads of tradition and innovation, the potential value of thought leadership becomes the guiding star for progress. "Just Thinking" dives into this potential with host Kevin Dougherty and guest Evan Edwards, a Professional Learning Specialist at 806 Technologies who exemplifies the transformative impact of visionary guidance […]
Read More