Apple Unveils Revolutionary Apple Vision Pro Mixed Reality Headset
Discover the groundbreaking features and potential impact of Apple's new Apple Vision Pro Mixed Reality headset, discussed in a recent episode of the MarketScale Podcast. Learn about the seamless integration, innovative technologies, and the wide range of applications that make this headset a game-changer in the industry.
In a recent conversation, Terry O'Connell interviews Steve Palaia, the head of all things 3D AR VR at MarketScale, to discuss the groundbreaking new product launch from Apple. The duo dives into the details of the highly anticipated Apple Vision Pro Mixed Reality headset, highlighting its features and potential impact on the market.
Apple Vision Pro Mixed Reality headset
The Apple Vision Pro Mixed Reality headset aims to revolutionize the way we interact with computers. By building a mixed reality experience, Apple envisions a future where traditional devices like the MacBook Pro that users would look at are replaced by a headset that you see through. Users will be able to access their favorite apps through the screens in the headset, which can also show the world in front of you through its 6 external cameras.
Steve emphasizes the value Apple brings to this new technology. Drawing from his experience with VR, he notes that Apple has surpassed competitors by addressing the shortcomings of previous headsets. The Apple Vision Pro combines Apple's cutting-edge silicon chips, processors, operating system, and ecosystem into a lightweight, all-in-one headset. Unlike other manufacturers, Apple has eliminated the need for external tethers or wireless technologies, significantly reducing latency and enhancing the overall user experience. Additionally, the inclusion of gesture control and eye tracing further elevates the interaction capabilities.
The potential applications of the Apple Vision Pro Mixed Reality headset are vast, but not new.
The headset opens up possibilities in various fields, such as training and troubleshooting, where users can visualize and interact with products in real-time. Education also stands to benefit, as students can have a hands-on experience with 3D models. Moreover, the integration of popular applications like Zoom and FaceTime enables enhanced communication, creating depth and realism in virtual conversations.
These applications could have massive benefits, but they are the same applications promoted by previous AR/VR headsets that have failed to gain mainstream adoption. Steve predicts that this product will be the one to break that trend. He expects a high adoption rate due to Apple's polished and user-friendly approach.
Another highlight that can lead to increased adoption is the seamless integration Apple's existing ecosystem, similar to the App Store's impact on the original iPhone. The new App Store for the Apple Vision Pro Mixed Reality headset will empower developers to create transformative experiences and establish a flourishing ecosystem.
Apple Vision Pro Pricing, Release, and Planning
The Apple Vision Pro Mixed Reality headset is set to release early next year, with a price tag of $3,499. As the excitement builds, Steve encourages interested parties to start designing and preparing for the future of this technology. MarketScale is ready to assist in creating interactive 3D and educational content, ensuring a smooth transition when the headset hits the market.
Latest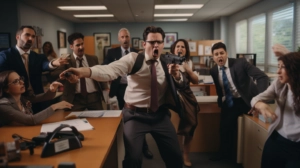 September 21, 2023
Security threats are escalating in this day and age, and the onus isn't merely on reactive measures but proactive measures, too. These are the nuanced approaches that integrate human intuition and robust technology. Because often, the warning signs preceding a major security incident present as complex components that potential attackers leave behind. Spotting these […]
Read More