How Insurance Providers Can Focus on Their Strengths to Keep a Competitive Edge
Idaho's St. Luke Health System is preparing to launch its health insurance plans to employees, on the Idaho insurance exchange, and as an employer-sponsored group plan. Clearsurance.com's health insurance expert, Melanie Musson, explains how traditional insurance providers can focus on their strengths to keep a competitive edge.
According to the Idaho Statesman, St. Luke's Health System, the largest in the state of Idaho, is entering the health insurance marketplace by offering its own plans.
According to IdahoNews, beginning on January 1, 2023, St. Lukes's will provide their health insurance plans to employees, on the Idaho insurance exchange, and to large and small employers for their sponsored programs.
They're even considering building Medicare Advantage plans for Idaho residents in the future.
Potential for Healthcare Monopolies
Fierce Healthcare explains that these hospital-sponsored insurance plans developed as a response to the Affordable Care Act and "value-based payments rather than the traditional fee-for-service model."
Although health systems joining the insurance marketplace isn't new, this recent development in Idaho has the public questioning their risks. As a result, health insurance providers must consider the impact of new sources of competition and watch for potential unethical practices that could create an unfair marketplace.
When the same company offers services and payments, problems can arise. The health system-sponsored health insurance plan will benefit when policyholders use their health care system. However, this potential benefit could result in policyholders being steered to system providers for treatments.
The hospital system could make it harder for other insurance companies' policyholders to access services. While these actions may seem counterintuitive for growing a business, there are pros and cons to this model, and these situations could arise.
As a provider offering competitive policies, it's essential to call out behavior that's not in the policyholders' best interests.
Strategies for Competing with Hospital Health Insurance
Traditional health insurance providers should focus their marketing on providing equal coverage for a large network.
In other words, they will provide coverage for specialists and healthcare providers in different hospital systems so policyholders can focus on seeing the best provider for their needs without worrying about the pressure to remain in one hospital system.
Another strategy is to build strong relationships with multiple hospital systems, including the one offering competing insurance plans. There's no benefit to burning bridges. Instead, fostering solid relationships will improve communication with hospital billing and customer experience, which will help build a competitive edge.
Hospital system health insurance tends to earn similar profits as private insurers, so more hospitals will likely follow St. Luke's lead and offer health insurance plans to employees, on the Healthcare Marketplace, and to employers with group plans.
Latest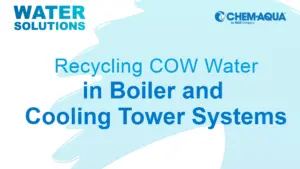 December 7, 2023
For the latest episode of ChemAqua's Water Solutions podcast, the focus was on an innovative approach to water conservation in the dairy industry. The show examined the potential of reusing Condensate of Whey (COW) water, a byproduct of dairy processing, and highlighted some of its economic and environmental benefits. Hosted by Dani Waddell, the informative […]
Read More