Blockchain and Crypto Investing | The Problem with Passive Index Investing

In a world where digital currencies and blockchain technology are revolutionizing the financial landscape, the traditional approach of passive index investing is being critically examined. As the global market cap of cryptocurrencies surpassed $2 trillion in 2022, investors are compelled to reassess their strategies. The question arises: Is passive index investing still a viable option in the face of disruptive blockchain technology and crypto assets?
In the latest episode of Untamed Ethos, Dr. Joshua Wilson and Dr. Russell Rhoads engage with Dan Weiskopf to explore the impact of blockchain technology and crypto investing on traditional passive index investing, discussing the potential of blockchain in various industries and the role of Bitcoin futures in the institutionalization of cryptocurrency.
They discuss:
The distinction between investing in blockchain technology and investing in cryptocurrencies.

The potential of blockchain technology to revolutionize various industries, from finance to supply chain management.

The role of Bitcoin futures in the institutionalization of cryptocurrency.
About Joshua Wilson
Joshua Wilson is the founder of United Ethos Wealth Partners, a registered investment advisory firm. As a dedicated investment professional, he brings his wealth of knowledge and experience in finance to bear, guiding investors through the complexities of wealth management. Wilson is known for his authentic, unfiltered approach to discussing market trends and his commitment to providing meaningful insights to listeners.
About Dr. Russell Rhoads
Dr. Rhoads brings a wealth of knowledge from his extensive background in finance and business, currently serving as a Clinical Associate Professor at the Indiana University Kelley School of Business. His insights and understanding of market trends offer valuable perspectives on the current state of the stock market.
About Dan Weiskopf
Dan Weiskopf is a seasoned professional in the field of finance and investment. As the Lead ETF Strategist for Think Tank and Co-Portfolio Manager for Amplify Transformational Data Sharing ETF, he brings a wealth of knowledge and experience to the table. His insights into the evolving world of blockchain and crypto investing are sure to provide valuable perspectives for listeners.
Latest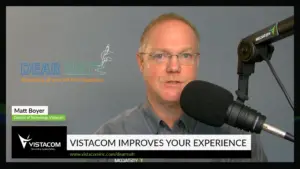 December 11, 2023
In a time when the AV industry supply chain faces unprecedented challenges, understanding its current status and future trajectory is crucial. In this week's segment of "Dear Matt," presented by Vistacom, host Matt Boyer, the Director of Technology at Vistacom, brings his over 30 years of experience in the audiovisual industry to the status […]
Read More