5 Ingenious Ways to Transform the Office Kitchen from Boring to Blissful
As an employer, it's just as important to provide our employees with a collaborative and motivational workspace, as it is to provide them with a place to take a break and refuel their brain. Employees look forward to breaks in their day to grab a bite, make some calls, read a book or just relax. The best way for employees to refuel onsite is to spend some time in a space that makes them feel good and reassures them that they are appreciated. If you're unsure what that space might include, here a few tips for creating the perfect office kitchen and the most satisfied employees:
Brighter is best! After sitting at a desk or being in an office for a few hours, most of us can really perk up with a little light and brightness. Grays and soft whites, or light wood for cabinets, countertops, and drawers make a space feel more pleasant and uplifting without overwhelming the senses.
The Kitchen Island is Here to Stay. However, its use has evolved over the years and can now be incorporated in some welcoming but utilitarian ways. The island has become a gathering space in the home, and it can serve the same purpose at work. Also, during those fun office parties, the island offers counter space to prepare and display food for the celebrations.  
Create Breakout Spaces. If space allows, consider a couple of café tables tucked away in a corner for alone time or intimate chats. While conference rooms are for formal meetings, you can add to your break area a long bar with charging stations where colleagues can informally connect, collaborate, or cool off.
Tidy is Terrific! Whose week is it to straighten up the kitchen or clean out the fridge? Life can be easier (and more relaxing) with appropriate streamlined storage that makes the best use of the space you have. Drawer organizers, wall hooks, and pegboard walls are trusted classics, but there are also newer tricks available to use the area you have and reduce clutter. Two-tier drawers, cabinet pull-outs with a built-in Lazy Susan, and storage space incorporated into the base of the island are just a few modern innovations. Stellar storage means less mess and more happy faces.
Get Creative. Don't be afraid to incorporate some specific qualities to your office kitchen that make it uniquely your company's. For example, a digital wall monitor that displays upcoming staff birthdays or bios, fun trivia about your industry, or just some colorful or crazy photos of the last company picnic can make the office feel more like home and make colleagues feel more like family.
Before you can update your office kitchen, you must know your employees and get a sense of their needs. Then when it's time to make changes, call on professionals whose workmanship and integrity you can trust. Genesis Products has been offering high-quality, low-cost cabinet and drawer panels and components since 2002, and as a team of close-knit professionals, we know a few things about staff satisfaction as well.
Learn more here about all the ways Genesis can help you transform your company's spaces.
Read more at genesisproductsinc.com
Latest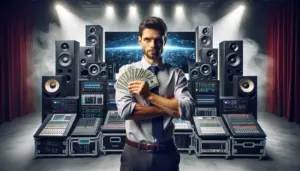 December 8, 2023
Mastering AV sales strategies in a global professional audio-visual (Pro AV) market, poised to reach $79.2 billion by 2028, requires much attention to detail. The surge in demand from corporate, government, and institutional sectors, driven by the need for enhanced productivity and efficient working environments, gives AV sales pros a lot of opportunity. In […]
Read More