AZZ: CREATING A STRONGER, SAFER WORLD
A popular coating for industrial components, powder coating is the electrostatic application of a dry powder to a surface which is then cured to form a protective layer that prevents destructive materials from penetrating and reaching the surface. Powder coating meets rigid compliance regulations with minimal raw material waste and VOC emissions, making it exceedingly environmentally-friendly. It also provides maximum protection against chipping and scratching that can last many years even in harsh conditions. Further, it is available in countless color options to complement any customer application.
While also offering an extra layer of protection to surfaces, galvanizing is instead achieved by adding a layer of zinc coating through a hot dipping process, providing a tough armor to safeguard against rust and corrosion. Galvanized surfaces are thicker and require less maintenance. In addition, galvanizing can be applied quickly, typically costs less than powder coating, and can protect steel surfaces for 50 years or more.
AZZ has been delivering leading corrosion protection to the steel fabrication industry for more than 40 years, ensuring structural assets are corrosion free, safe, and sustainable. Proud to serve the Aerospace and Defense sectors, AZZ maintains certifications in various processes, including ISO 9001, AS9100, and Nadcap. With two strategically located powder coating locations in Texas, AZZ can process items up to 60' long and can handle parts weighing up to 60,000 lbs.
Watch this video to see Technical Director Tony Pajoohi and General Manager Ed Garza explain how AZZ is creating a stronger, safer world.
Read more at azz.com
Latest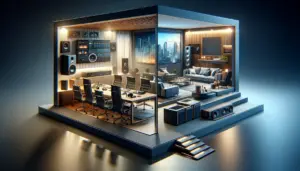 November 27, 2023
In this episode of "Pro AV Today," host Ben Thomas sits down with Audra Kinsley of Sonos Professional to unpack a topic that's causing (sound) waves in the audio industry: the fusion of commercial and residential audio systems. As we navigate through a landscape where consumer and professional audio worlds are increasingly intersecting, Sonos steps […]
Read More