BEING GREEN MATTERS AT PRESCO
As a leading manufacturer of outdoor marking materials, it's clear that these materials must be durable. But at Presco, we're also concerned with how we can reduce our environmental impact. That's why our manufacturing processes are specifically focused on sustainability, including:
Formulating vinyl to use bio-based raw materials
Purchasing post-industrial PVC scrap for use in production orders when formulations permit
Mixing internal scrap into product orders when applicable
Recycling all start up and edge trim scrap into production orders in real-time
In addition to our PVC production processes, Presco added Ethylene Vinyl Acetate (EVA) film extrusion to our capabilities. A member of the polyolefin family, EVA is different than PVC, containing no plasticizers, making it an eco-friendlier alternative to PVC.
Can PVC Products be Eco-Friendly?
Many of our customers have often inquired about how our materials are made and if they include any recycled material. Product lines we manufacture, such as the film supplied for our safety marking products, sewer ducting, and other industrial product lines, have up to 40% of post-industrial regrind content. That percentage is equal to over one million pounds of PVC film that doesn't end up in our planet's landfills. Regrind also lowers the formulation cost for customers, so it's something we're passionate about continuing.
The PVC Regrind Process
For those products which necessitate the inclusion of PVC, we've found that allowing regrind back into general purpose formulations is a concerted way to promote sustainability within PVC manufacturing. At Presco, PVC scrap is processed through our onsite grinders into smaller bits—similar in size and texture to confetti. The regrind is then divided by color and stored until a color and formulation opportunity occurs to reuse the scraps. Regrind is then added to the batches in the compounding process and mixed directly into the PVC dry blend compound. This regrinding keeps tons of PVC from sitting in landfills while reducing the overall amount of PVC debris in the world. Regrind, when used in formulations, also reduces the price of the material, providing significant cost savings to our customers.
Presco Also Offers Biodegradable Flags and Staffs
To further our efforts of responsible, sustainable product manufacturing, Presco also offers a range of biodegradable marking products. Non-toxic to humans, animals, and the environment, our biodegradable flags and are made of non-woven rayon cellulosic material derived from wood pulp. Attached to an all wood 24" staff, Presco's biodegradable marking flags guarantee complete degradation of the entire product.
No matter what type of film or marking product you need, Presco has the solution, and you can be assured that the solution comes from a company dedicated to reducing its environmental impact. Explore all our capabilities today.
Latest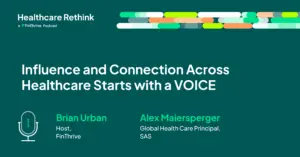 September 29, 2023
In the latest episode of the Healthcare Rethink podcast, presented by FinThrive, host Brian Urban sits down with Alex Maiersperger, the Global Principal Healthcare at SAS. Their conversation charts the role voice plays in influencing and connecting the healthcare industry. Maiersperger, who co-founded the Advancement League, shares his journey from being a healthcare optimist to […]
Read More