Choosing the Best Laminate Surface for Your Needs
Entering the design or redesign of a home or office is an exciting time: the canvas is blank, and the possibilities are abundant. For many reasons, one popular choice today for the surfaces in a space is laminate. First of all, these surfaces are fire retardant and have antibacterial properties. This quality adds a layer of safety and hygiene that makes them an excellent option for busy homes and high-traffic business areas.
When kept out of direct sunlight, you can expect laminate panels to look like new for many years, and their reasonable pricing makes them highly affordable. Not to mention, everyone loves a product that is low-maintenance. Regularly dust these surfaces with a damp microfiber cloth, and spend your valuable time on other, more important things.
Polyethylene Vs. Polypropylene
Choosing a laminate surface might take a bit longer than a swipe with a cloth does. However, with multiple choices, it's important to do your research and take the time to choose the surface that is best for you and your lifestyle. For example, two options to consider are Polyethylene and Polypropylene. While they are very similar as far as physical properties, they do have some important differences. Polyethylene can be produced optically clear whereas polypropylene can only be made translucent like a milk jug. Polyethylene fairs better in cold temperatures and is, in general, sturdier than polypropylene. Polypropylenes, however, are lightweight and have a higher resistance to cracking or damage when exposed to certain chemicals.
High-Pressure Laminate
High-pressure laminate (HPL) is another option. As the direct descendant of the original plastic, laminate is considered to be one of the most durable decorative surface materials and is available with a variety of properties. Due to its durability, HPL is a common choice for horizontal surfaces including flooring, countertops, and desktops. It also performs well in horizontal and vertical applications for high traffic settings such as hospitality, office furniture, and healthcare facilities.
Vinyl or Acrylic
Another surface choice for your laminated panels is vinyl. Vinyl is also durable and affordable. It can be manufactured with a variety of textures, colors, and prints. This material is also highly stain-resistant but is sensitive to many chemicals. Vinyl is available in a variety of thicknesses as well. In addition, currently popular are high-gloss surfaces, and high-gloss acrylic panels are a great choice for those desiring a shiny, reflective surface. Acrylic panels have a superior gloss level throughout, and they can be refinished or repaired when scratched or marred. They are waterproof and do not warp or discolor when exposed to the sun. Clearly, high-gloss acrylic offers may benefits—functionally and aesthetically.
Genesis Products manufactures and supplies wood and laminate products for various industries. We carry laminate surface options for all of these and more. Contact us today to discuss your laminated panel needs!
Read more at genesisproductsinc.com
Latest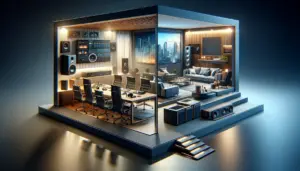 November 27, 2023
In this episode of "Pro AV Today," host Ben Thomas sits down with Audra Kinsley of Sonos Professional to unpack a topic that's causing (sound) waves in the audio industry: the fusion of commercial and residential audio systems. As we navigate through a landscape where consumer and professional audio worlds are increasingly intersecting, Sonos steps […]
Read More