Countertop Edge Types to Fit Your Kitchen Design
Redesigning a space is an exciting undertaking and one full of decisions. One design aspect that continues to get the attention it deserves is countertops. Kim Berndtson of Kitchen & Bath Design News explains that the countertops' "prominent status [is] rightfully justified, given the important contributions they make to the aesthetics and function of a space, as well as the influence they wield over defining and refining subsequent selections."
While color, texture and thickness are all important considerations for your surface design, don't ignore the impact a countertop edge type can make on the space.
Caesarstone Edge Options
There are several different types of countertop edges you can choose from to fit both design style and lifestyle. For example, in lieu of hard corners, there is the more rounded option of the radius with its curved edge, or the even rounder edge of the bullnose. Those trying to avoid a harsh edge but still preferring an angular shape might opt for the softened right angle of the miter edge or instead aim for the squared-off bevel edges. And for the traditional sloped edge, the ogee design is also available. Caesarstone offers these different types of countertop edges plus some variations on each.
Visit the Caesarstone edge detail page here to view the many different edge options.
Choosing the Right Countertop Edge
Not sure what type of countertop edge suits your style? The 
design pros at Houzz
 have some suggestions for how to choose. First, always remember that sometimes less is more. When creating a space, it's important to avoid having all the intricate details compete for attention. In situations where this may be a risk, opting for a surface in standard shape and thickness is best.
A great way to make the countertop the focal point of a space is to choose a mitered edge. A more rounded feel that comes with the bullnose edge is perfect for the classic look of the traditional kitchen. An ogee edge is a traditional choice that can add an interesting contrast in the modern kitchen. In fact, sometimes playing with contrast and experimenting with textures throughout can pay off big and create an inspired space unique to its owner.
Global Collaboration
Caesarstone is at the forefront of innovation in the industry. The design team is driven by creative energy and impeccable standards with a goal to provide uniquely elegant products to help define the spaces where consumers live and work. We collaborate on edge detail options with lead designers around the world and have customers in more than fifty countries. This level of engagement is a direct result of product leadership, premium pricing, and global recognition of our commitment to quality, safety and environmental standards.
Latest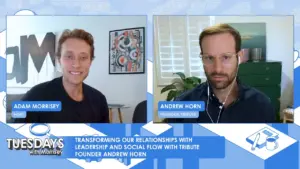 November 28, 2023
Can relationships be transformed through leadership and social flow? Navigating the intricate web of digital relationships can be a tricky proposition. Tuesdays with Morrisey's Adam Morrisey uncovers the transformative impact of emotional recognition in the workplace with Andrew Horn, the mastermind behind Tribute. This podcast edition unravels the story of a platform redefining how […]
Read More