Ergo Robotic Solutions: Offering Outstanding ROI & Multiple Benefits for Construction Projects
Construction naturally involves many moving parts. One error or delay among the crew or mechanical failure on a project can set off a chain reaction that causes more damage than a missed deadline. With the margin of error quite thin on most worksites, it's critical to have reliable equipment. Purchasing construction machinery is a significant investment, a decision that must take into careful consideration return on investment (ROI).
What the Right Investment Means for Your Bottom Line
Construction machinery is expected to enhance work speed, but it has a much larger residual effect. Not only can the proper equipment save you time on each project, but the mitigated risks and expenses on jobs allow firms to take on additional ventures throughout the year
Safety & Efficiency
Construction sites are, by nature, dangerous places. Raw materials, unstable structures, large tools and busy properties all bring inherent risks, no matter the scale of the task. Quality machinery significantly decreases the need for manual labor, creating a spiral effect—fewer personnel reduces both the opportunity for workplace injuries and the frequency of workers' comp complaints, as well as less likelihood for the need of replacement labor who may be underqualified and require additional training that can further hinder a project's progress. Also, with machinery handling the heavy lifting and moving, workers will have more availability in their schedule to work on other more productive tasks.
Reduced Damaged Product
Commonly caused by worker fatigue that leads to mishandling, damaged products are a usual but unwanted expectation in tasks performed manually. Machines, on the other hand, do not grow weary throughout the day, maintaining much more consistent control of materials, translating to fewer drops, scrapes, bumps and breaks.
Attract and Retain Elite Talent
In a recent national survey conducted by the National Association of Home Builders polling young adults ages 18 to 25, it was found that 74% of those surveyed know the field in which they wish to have a career; and of those, only 3% were interested in construction trades. The two most common reasons for this lack of interest were the desire for a less physically-demanding job (48%) and the belief that construction work is difficult (32%). As the number of skilled employees aging out of the construction industry continues, the sector is facing a massive scarcity of qualified workers to take their place. According to NAHB economist Rose Quint, a big part of the construction labor problem is perception vs. reality. However, there are several factors that builders, manufacturers and associations can seize on to attract the younger workforce and change this perception, including building technologies
Today's workers, especially younger ones, are attracted to companies that invest in new technologies. In fact, a study by Dell revealed that 45% of millennial workers were more likely to quit a job that utilized sub-standard technology. Microsoft came to a similar conclusion in a study of its own, citing that 93% of workers say technology helps them thrive at their job. Companies that invest in new technologies have an easier time attracting the millennial workforce. And workers surrounded by state-of-the-art equipment with the capabilities to perform tasks easier, smarter and safer are more likely to remain in their positions. After all, there's nothing attractive about joining or staying with a company that puts employees in situations where they can be harmed doing their job.
Ergo's Glass Installation Solutions Keep Projects Safe, On Time and On Budget
From the contractor's end, many expenses go into successfully completing a construction project. On projects that require significant glass installation, financial and hazard risks increase exponentially. When proper investment is not made in equipment, leaving projects susceptible to unpredictable injuries, damaged or broken panels, or delays caused by fatigue and mechanical failure. The right machinery can make all the difference, ensuring projects stay safe, on time and on budget.
At Ergo Robotic Solutions, we design, build and sell glass installation equipment custom designed to meet each client's application needs. Ergo's variety of walk-behind manipulators, underhook, and fork-mounted products are crafted to increase glass installation efficiencies on job sites. Ergo's glass manipulation systems provide quicker installations, less breakage and damage, and reduce the need for hiring extra labor to install large, difficult glass while lessening the risk of laborer injury or weariness. Made right here in the USA with components readily available in stock and ready to ship quickly, Ergo equipment is backed by customer support and convenient serviceability.
Further, Ergo's line of hydraulicly-powered glass manipulators can handle a wide variety of window sizes and thicknesses, enabling contractors to bid on jobs that were previously beyond their capabilities. And with cutting-edge equipment that reduces the need for human handling while increasing safety, businesses are more able to attract younger workforces and retain skilled laborers. Best of all, Ergo's glass installation equipment often pays for itself the first time out, offering an attractive ROI.
To learn more about Ergo and our line of products, click here.
Latest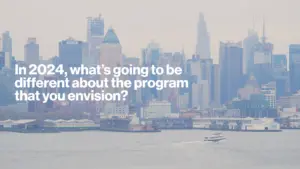 December 1, 2023
In the dynamic telecommunications landscape, Verizon's Partner Network continues to evolve, adapting to new trends and opportunities. For another segment featuring Mark Tina, VP of Indirect Channel Distribution and Channel Chief at Verizon Business Group, he explores exactly what types of significant changes and advancements the Verizon Partner Network will see in 2024. In this […]
Read More