Ergo: Small Business, Big Glass Installation Solutions
There is no substitute for flexibility in any industry; yet most companies aren't inherently nimble, able to deliver custom and unique solutions to each customer. At Ergo Robotic Solutions, however, we've made sure that our operations can do just that. Glass installation is rarely cookie cutter, so it's essential to have the latest and greatest equipment that resolves challenges many contractors face on the job. Our powerful, hydraulic glass installation machines deliver an experience for contractors unlike any other, and we're committed to working closely with our customers for a quick, complete solution. 
Building Machinery In-House
All the equipment we build is constructed at our facility in upstate New York, allowing for consistent and constant supply to those who need it in the Big Apple.
Alan Nudi, Ergo's Director of Sales and Marketing, shared, "So the solutions we provide are designing and manufacturing heavy-duty glass lifting machinery. We are very proud to be a company that is made in America. We manufacture everything here. We cut glass, steel; we paint; we design everything – the entire process happens here in our shop."
With everything made here in the U.S. and components in stock and ready to go, we're always prepared to ship your next piece of machinery. But our commitment to customers doesn't end after the sale. Every piece of equipment is backed by our unparalleled customer support and service.
Supporting Local Businesses
Much of our customer base is local, and that allows us to be part of the community. Because of our proximity to New York City, where thousands of pounds of glass are installed regularly, we're right here to assist.
Jerry Nudi, Principal, commented, "Our products are built with safety in mind. To install a 2,000-pound piece of glass by hand is dangerous. The right machinery enables companies to work safely, and that's critical for every local business." 
Listening to Our Customers Is Key
Improving our offerings is vital to our customers, so we listen carefully to understand their challenges. Because we are a small company, we don't have to jump through hoops and hurdles to customize equipment. Our manufacturing processes can be restructured easily to meet specific equipment needs.
Alan noted, "It's about our ability to customize and be flexible. We're right here—we understand what your needs are. Not only can we design a machine for you in a short amount of time, but we can deliver it to you quickly. We can service it quickly. And then we'll be here to maintain it."
This dedication to servicing customers throughout the life cycle of the product is what makes us different. Our machinery—walk-behind manipulators, underhooks, and fork-mounted products—have very distinct functions, and each customer needs something a little different for their specific project requirements. Understanding those nuances helps create a product that the customer can use to eliminate the difficulties they often have in glass installation.
Delivering on Expectations
We typically have machinery in stock for rental as well as purchase. You can even hire one of our operators if needed. Although we are a first-come first-serve-business, when you reserve machinery, you can be assured it will be delivered on time. 
One-Stop Shop for Glazing Machinery
Our glass installation machines can handle a variety of window sizes and thicknesses. The capabilities of the equipment we offer enable contractors to efficiently and effectively install glass while enhancing the safety of their operations.
We empower our customers with state-of-the-art machinery—get a glimpse of what we do by watching our video.
Latest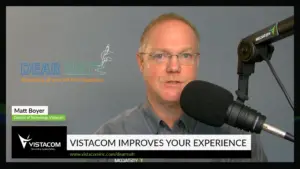 December 11, 2023
In a time when the AV industry supply chain faces unprecedented challenges, understanding its current status and future trajectory is crucial. In this week's segment of "Dear Matt," presented by Vistacom, host Matt Boyer, the Director of Technology at Vistacom, brings his over 30 years of experience in the audiovisual industry to the status […]
Read More