Extending the Life of Your Walk-In With Liner Panels
Whether your need is aesthetic or functional, Thermal Liner Panels can extend the life of an existing walk in cooler or freezer by up to 5 years, adding an R-value of 5 to your existing solution.
Setting the Standard for Thermal Liner Panels
KPS Global have set themselves apart in the walk-in industry, providing customers with long lasting products and affordable solutions to fit any customer's needs.  KPSG has created an innovative solution to solve the expensive problem of walk in cooler replacement in their thermal liner panels.  From restoring panel damage to refurbishing surfaces and repairing joint displacement, KPSG has liner panel solutions to meet a variety of customer needs. Their thermal liner panels increase the R value of any existing cooler or freezer, reducing unnecessary energy costs.
Liner panels come in both 10ft and 12ft lengths to field cut according to project requirements and install directly over existing walk in panels (Think an NSF certified, really thick wallpaper that saves you money and insulates better!) In addition to providing additional thermal value of R-5 to an older cooler and saving money by providing additional insulation, they can also add a fresh, updated look to corroded, discolored or older coolers.
Apply Thermal Liner Panels to Your Walk-In Cooler with No Downtime
Maintenance is inevitable, but when it's unplanned it can impact your bottom line.  Application of liner panels by KPSG is a non invasive method—potentially saving a business owner thousands of dollars by avoiding a shutdown! Rather than a turnkey installation and teardown, causing possible delay in providing product or requiring product to be stored elsewhere while a new cooler is installed and causing all the related issues that come with cooler downtime, KPS Global Thermal Liner Panels install onto the inner walls of an existing cooler, avoiding teardown while prolonging the lifespan of the existing walk-in solution.
Freezer liner panel installation can also be professionally managed by KPS Global teams, ensuring that the shutdown process required for freezer walk-in installations is as seamless as possible. 
Choose a Panel Finish to Match Your Existing Walk-In
The aesthetic of termal liner panels can play a role in a business owner's decision in choosing the right provider.  KPS Global gives customers a choice of different styles and different textures of thermal liner panels that can be installed over existing signs of wear and tear or corroded, used coolers that not only improve on the look of the cooler but add thermal value to the overall environment. Customization to fit existing solutions was an important consideration of the creation process of the thermal liner panels, as the overall aesthetic can be an important part of keep a neat, professional commercial cooler or freezer system.  The panels come in both ¾" inch and 2" thicknesses, and the 10 or 12ft panels are field cut.  Contact our team to learn more about available finishes and colors. 
Differentiation from the Competition
What differentiates KPSG from competitors is innovation.  KPSG goes beyond delivering a superior product and focuses on anticipating the customer's needs.  Tom Beatty, Vice President of Construction Services, explains how easy and effective this liner panel solution is, "Our liner panel product can extend the life of an asset for up to five years.  Our customers don't have to close down to replace a box—which is time consuming and could disrupt the business.  Whether you have a product that is not up to spec with keeping temperature, we can redo the interior of that cooling box with the liner panels giving you a very good solution to keeping temperature down as well as making it look brand new.
Using Thermal Liner Panels on a Non-KPS Global Walk-In
One of the benefits of using KPS Global liner panels is that they can be installed over most existing, non KPS global walk in solutions! Contact our representatives today to talk about your specific project needs.  KPS Global believes that the secret to success is putting the customer's need for a great walk in solution first, and this flexible installation system is critical to helping ensure that as many customers as possible can use KPS Global to see continued success.  Customers can leverage and utilize experienced KPSG teams throughout the process.  According to Sean McGrann, Senior Vice President of Marketing and Sales for KPS Global, part of the real KPSG experience is what has led to the development of such high quality products—a real connection to and passion for industry and customer needs, and firsthand insight into the type of innovation that is needed from the day-to-day perspective of the buyer.
With Thermal Liner Panels, KPS Global introduces a product that not only meets the need for energy efficient, cost effective solutions, but offers options to customers who need to expand the capabilities of their existing solutions.  Find out more about KPS Global here.
Read more at kpsglobal.com
Latest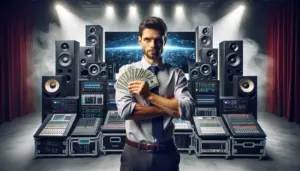 December 8, 2023
Mastering AV sales strategies in a global professional audio-visual (Pro AV) market, poised to reach $79.2 billion by 2028, requires much attention to detail. The surge in demand from corporate, government, and institutional sectors, driven by the need for enhanced productivity and efficient working environments, gives AV sales pros a lot of opportunity. In […]
Read More