FIND OUT THE BENEFITS OF HAVING PRESCO BARRICADE TAPES ON THE JOB
According to OSHA, 5,190 workers were killed on the job in 2016 – an average of more than 14 deaths every day. Regrettably, many of these fatalities could have been prevented through the proper use of barricade tape.
Barricade Tape is Growing in Popularity
Contractors and builders increasingly use barricade tape to reduce both the monetary and human cost of workplace injuries. Barricade tape is non-adhesive, brightly colored strips of material designed to grab attention and alert employees, contractors, and the general public of potential dangers. The goal is to reduce the risk of serious injuries and keep everyone safe. These products are made from durable, resilient, tear-proof plastic materials such as polyethylene, polypropylene, or nylon and typically have a bright background with pre-printed bold warning text.
All barricade tape designs are required to comply with Occupational Safety and Health Administration (OSHA) and American National Standards Institute (ANSI) regulations. To be effective, an area of concern should be completely enclosed with barricade tape placed approximately three feet above the ground or floor. Barricade tape should be securely fastened to supports to ensure it doesn't sag. In addition, there should be no gaps that might allow someone to enter the hazardous area inadvertently.
Barricade Tape Has a Number of Uses
Barricade tapes are used in a variety of situations to indicate high-risk locations or areas of restricted access. The color yellow is used to communicate caution for hazardous conditions that may result in moderate injury, while red indicates a site that should only be entered by authorized employees due to the risk of death or serious injury. Other colors are used as well, such as orange to raise warnings, green to identify a location that is used to stock safety equipment, or blue to identify information signs. Barricade tape is typically used in construction zones, but may also be used by police and firefighters to restrict public access or by medical personnel to indicate biohazard areas. In addition, tapes can be used in a variety of situations to restrict or drive the flow of foot traffic.
Investing in Presco Barricade Tape is Beneficial for Businesses
Workplace injuries can be costly. According to the 2018 Liberty Mutual Workplace Safety Index, serious, nonfatal workplace injuries amounted to nearly $60 billion in direct U.S. workers compensation costs. Simply put, this means that businesses spend more than $1 billion a week on these injuries. But that's just the start—this figure does not take in to account other direct costs such as medical bills, premium increases, and legal expenses; nor does it include indirect costs such as loss of productivity, OSHA fines, replacement recruiting and training, and loss of business or goodwill.
That's why using Presco barricade tape is such a wise investment. Used by professionals in law enforcement, safety, construction, painting, mining, hardware, and utilities to help keep workers and the public safe, our barricade tape is durable, strong, and UV-resistant for maximum efficiency and effectiveness. Available in reinforced, repulpable, hi-visibility, biodegradable, woven, and day/night configurations, as well as a variety of colors and thicknesses, Presco barricade tape is a superior marking solution that can help businesses solve safety challenges while meeting exacting regulatory standards.
To find out more, visit https://www.presco.com/barricade-tape/
Latest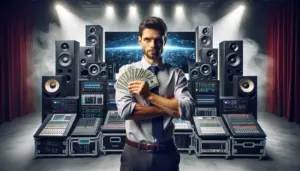 December 8, 2023
Mastering AV sales strategies in a global professional audio-visual (Pro AV) market, poised to reach $79.2 billion by 2028, requires much attention to detail. The surge in demand from corporate, government, and institutional sectors, driven by the need for enhanced productivity and efficient working environments, gives AV sales pros a lot of opportunity. In […]
Read More