Form Follows Food: Why Kitchen Design Is in a Marbling Mood
There are few trends in the design world that have stood the test of time. The trajectory of art, fashion, and architecture are fickle, pushed by changing moods and eras. Still, a few powerful elements resonate as well now as they did at their inception into the design limelight.
As it did in ancient days, marble still conjures images of elegance and quality in interior design. Today, Caesarstone quartz that looks like marbling is bringing this all-time phenomenon back to the forefront of kitchen design.
Sometimes in a kitchen, form follows food. In our 2019 Kitchen Trend Book, we outline how this movement is currently inspiring kitchen design.
The Mood of Food
The kitchen has always been an indispensable area of any home. Not just a place to cook, but to gather and converse, the kitchen is often characteristic of the family that uses it. Today, there are more options to craft the kitchen after one's cooking penchants and styles, and its form often follows food.
Marble-inspired quartz provides a bold identity to any kitchen, with veining and features that follow marbling in food design, such as dappled blue cheeses or fruits like kiwi sliced to display their speckled internal seeding. Whether it's quartz with veining or quartz countertops that look like Calcatta marble, architects, designers and homeowners can create a space that represents their passions for marbled foods with a look that is both timeless and distinctive.
The Mood of Marble
A mainstay, marble has had its share of the spotlight throughout the ages, but it's currently experiencing a dramatic revival. Its return has brought people back to time-honored inspirations that follow form and function. With the recent rise of the material has been a return to classical looks including the inclusion of nature in design.
When finishing a kitchen with such an iconic material, designers evoke a sense of nature and escape, an ambiance people are craving in today's modern, sensory-frenzied world. The perception of elitism associated with marble in the past has slowly eroded into a more modest and poetic approach, making it an attractive choice for a diverse clientele.
Accessibility Like Never Before
As every family is different and rare, their kitchens should reflect this same inimitable quality and feel. The Caesarstone Supernatural Collection offers a unique blend of earthy tones and exquisitely infused veins. Each marble design is completely exclusive to Caesarstone and made with cutting-edge technology. End-users can choose from soft, subtle veins or bolder, more jagged routes, ensuring that every installation is custom to the buyer and that each finished kitchen will be truly one-of-a-kind and personal.
Caesarstone's Form Follows Food book highlights what marble can accomplish in the kitchen. Considering the stone's recent return to prominence, there is not a better time to consider it for your kitchen than today.
To see how Caesarstone surfaces can enhance your home, view our Quartz Visualizer tool now.
Latest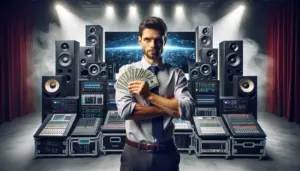 December 8, 2023
Mastering AV sales strategies in a global professional audio-visual (Pro AV) market, poised to reach $79.2 billion by 2028, requires much attention to detail. The surge in demand from corporate, government, and institutional sectors, driven by the need for enhanced productivity and efficient working environments, gives AV sales pros a lot of opportunity. In […]
Read More