G-Week at Genesis: Powered by our People
The team at Genesis Products celebrated G-Week from June 25 to June 29, and it was one to remember! G-Week is our annual, week-long, corporate meeting, but it's so much more than just that. G-Week was founded with the goal of bringing everyone together for a week of team-bonding, fun, and planning for the coming year.
Genesis Products loves G-Week for a few reasons. First, our employees are able to better grasp the company's annual goals. In addition, it's an excellent way for our employees to connect with each other, which strengthens our team-oriented culture.
When we first started with G-Week 5 years ago, we only had 65 people. Enthusiasm has grown over time, and this year we had over 150!  Our team loves the week's schedule of fun and fabulous events:
Monday—All Company Lunch and State of the Business Features
Tuesday/Wednesday/Thursday—Department Meetings and Volunteer Opportunities as well as other social events including:

Bowling
Board Games
Bluegrass and Boots

Friday—Field Day/GooseChase
Our social events provide incredible team-building opportunities and boost excitement as the groups compete for points and ultimate bragging rights. GooseChase took place in Downtown Elkhart, where we partnered with local businesses. Employees were assigned tasks such as decorating a cake, finding the various quilt gardens, giving a flower to a stranger, and pitching an idea to a local business. GooseChase is a great chance to encourage our teams to step outside their comfort zones and refuel with enthusiasm for the coming year!
Genesis Products is proud of our history of creating a family-feeling work culture. We understand how important it is to cultivate positive feelings on-the-job and recognize that the best service comes with feeling positive about the company. And speaking of service, Genesis also continues to partner with local organizations––this year completing over 500 hours of community service.
At Genesis Products, our motto is two-tiered: product-driven and people-powered. Learn more here about the company culture at Genesis!
Read more at genesisproductsinc.com
Latest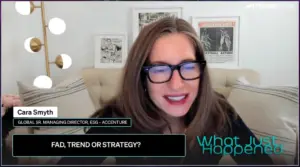 November 30, 2023
The world is in an era where sustainability and responsible retail business practices are increasingly crucial. For the latest episode of "What Just Happened," host Christine Russo further explored the hows and whys of this pressing issue by interviewing Cara Smyth, Global Senior Managing Director for ESG and Responsible Retail at Accenture, and Chair […]
Read More