Get Holiday-Inspired With These Fall Home Decor Ideas
Generally, Americans can agree on at least one thing… we prefer the fall months over spring, summer and winter, according to a YouGov survey. Fall means back-to-school, football season and the eve of a new string of fun and festive holidays. Don't forget that the cinnamon/nutmeg goodness of pumpkin spice is in the air, and who doesn't love the kaleidoscope of colors that nature provides free of charge?
For those obsessed with home décor, and for those eager to dip their toe into the decorating waters, fall provides fresh ideas for transforming your home into a haven of seasonal warmth. Let's take a look at three fall home decor ideas for 2018.
Throw Back
During a season in which visits to grandma's house and memories of holidays past are the norm, the comfort of the old and familiar are a great fit. HGTV suggests adding a rocking chair or swing to the front porch to give your home an old-fashioned farmhouse feeling. You can even "bring the indoors out" with a unique piece like a distressed table or other traditional interior pieces.
As for indoors, don't forget grandma's quilts! Some carefully placed hand-crafted treasures can remind you and your guests of the warmth of family and traditions. This approach to fall transformation provides wonderful reminders that there really is no place like home.
Flash Forward
5111 Alpine Mist
Fall is a time of change, with one year ending and a new one on the cusp. While looking forward to 2019 and resolving to be better versions of ourselves, why not incorporate these concepts into your personal spaces? A trend dubbed "futuristic fab" by the designers at domino hints at "futuristic qualities and focus on small-space living." Sleek storage, utilitarian pieces, and muted gray tones are popular in this style, which keeps your aesthetic forward-leaning and in tune with Benjamin Moore's recent announcement of their choice for the 2019 color of the year. Their Metropolitan, a cool gray tone, blends nicely with a backdrop of Montblanc or creates a beautiful but understated contrast with surfaces like Caldera. This trend reminds us to keep evolving and looking to all the good fortune that the future brings.
Modern Minimalist
2030 Haze
For those who want to keep their feet firmly planted in the present, minimalism is still hot. A contrast to the decadence of eras past, this generation embraces the "less is more" attitude and plays well with neutrals and muted colors. Modern times have brought with them a yearning for simpler living and a notion that downsizing is delightful, so this fall, some decluttering and careful rearranging can bring this quieter milieu to fruition in your home. There's no reason to adorn your mantle with fake pumpkins and leaves when you can open a window or adorn them with sheer drapes to make the real thing visible from any room.
Also, make purposeful purchases of consumables such as seasonal scented candles and teas to add to the fall aura of your spaces.
Caesarstone Fall Colors
Whether your fall fantasies reside in the past, future, or you just like to live in the moment, fall provides a plethora of opportunities to transition to a creative and uniquely individual seasonal décor. And Caesarstone quartz surfaces can be the perfect backdrop for top design brand inspirations.
Visit the Caesarstone Collection page to learn more about the breathtaking beauty of our surfaces and to request a sample today.
Latest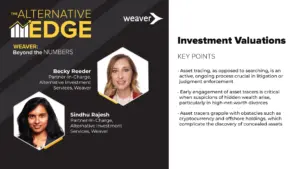 December 4, 2023
In this episode of The Alternative Edge, a Weaver: Beyond the Numbers Podcast, host Becky Reeder, an audit partner and co-leader of the alternative investments practice at Weaver, engages with Sindhu Rajesh, an Alternative Investment Services Partner with Weaver. They unpack the complexities of venture fund valuations, offering critical insights into industry dynamics and best […]
Read More