Grey Quartz Countertops Ideas and Inspirations
Grey has long been a popular neutral and continues to be a hot trend in kitchens and bathrooms today. Depending on the mood you want to set, Caesarstone offers several sophisticated greys in many different tones, including solid, light, and dark grey. Whether you prefer a sleek or rugged look, find inspiration by visiting our colors gallery, where you can filter by style, color group, or color to find the ideal surface for your design.
Grey Quartz Countertops: From Light to Dark
We love the diversity of grey. Whether you choose a light grey or dark grey countertop, this vibrant neutral is a complement to most any other color. Here's a quick peek at some of our most popular greys:
Coastal Grey: This intricate grey includes black and white veins for the allure of elegance while layers and texture deliver a sleek depth that is a popular choice for both contemporary and traditional spaces.
Flannel Grey: This dark grey quartz countertop has accents of a medium heather grey. It's a versatile neutral that works well when paired with bold colors.
London Grey: This chic opaque light grey has soft charcoal lines, giving off the vibe of upscale marble. This modern and clean surface works lovely as a neutral backdrop.
Noble Grey: Creamy shades of white and light grey blend effortlessly with darker swirls offering a final look that is refined and decadent.
Piatra Grey: This shade has a marble texture of smooth slate grey with chalky white accents, giving it a cozy feel.
Symphony Grey: White veins and grey accents meet in this modern surface.
Turbine Grey: Whirls of white and dark grey fall into a classic grey base, offering distinct energy that's right at home in contemporary spaces.
Quartz Surface Designs: Industrial, Urban-Inspired Looks
Industrial, urban design has been a hot decor trend for some time and pairs well with a variety of grey shades. It was once rather difficult to capture this with quartz, until now.
Lasat year, Caesarstone launched three new white quartz surfaces, Cloudburst Concrete, Frozen Terra, and Intense White. We've also added four more to fit this urban-inspired style: Excava, Topus Concrete, Airy Concrete, and Flannel Grey. Five of these seven are part of the Metropolitan Collection, which was inspired by the rugged industrial look of factories and lofts.
Experience the Metropolitan Collection in our new interactive infographic.
Excava, Airy Concrete, Topus Concrete, Cloudburst Concrete, and Frozen Terra join the other colors in the collection, Fresh Concrete, Raw Concrete, Rugged Concrete, and Sleek Concrete, all which include shades of grey.
When we began to create these new colors, innovative technology was used to develop the weathered patina in quartz, which has never been possible before. The Metropolitan Collection stands as a reflection of the layers found in industrial art and architecture with a focus on dimensional surfaces and unpolished colors, bringing the texture to life in the design.
The other new colors, Flannel Grey and Intense White, join the Classico Collection, which has a variety of popular options for both residential and commercial applications.
As the leading manufacturer of luxury quartz surfaces, Caesarstone is excited to share with you the many options in our collections. This hot trend for kitchen and bath surfaces is easy to make your own. Find your favorite shade today and request a sample by adding samples to your cart.
Latest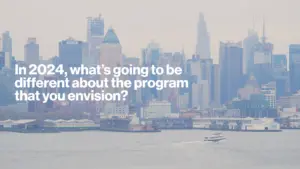 December 1, 2023
In the dynamic telecommunications landscape, Verizon's Partner Network continues to evolve, adapting to new trends and opportunities. For another segment featuring Mark Tina, VP of Indirect Channel Distribution and Channel Chief at Verizon Business Group, he explores exactly what types of significant changes and advancements the Verizon Partner Network will see in 2024. In this […]
Read More