KPS Global: The Best Team in American Manufacturing
KPS Global® has depended on the ingenuity and dedication of its people in order to succeed. A lot has changed over the years with various acquisitions, but the individuals make us who we are today. Today, KPSG operates 500,000 sq. ft. of manufacturing space across three plants that are strategically located throughout the country to quickly and reliably provide customers with superior, American-made products. Business at KPSG remains robust with over 600 hard-working employees who serve as the backbone of the entire operation. Each of KPSG's three plants staffs a mix of quality control experts, engineers, and experienced supervisors. Some of the company's superstars have ten, twenty, and even thirty years of experience under their belts.
Plant Engineer Larry Stevens started back in 1984, making him one of the most seasoned professionals on the roster. In his role at the Arizona location, Larry is responsible for improving and maintaining the manufacturing equipment to avoid costly downtime. He also makes sure the design department supplies the manufacturing team with accurate build reports and supporting documents. Larry begins each day reviewing the previous day's KPI's with the management team. From there, he huddles with the maintenance and design crew to discuss issues and goals. If he has any time left in his busy day, he fills it with getting drawings to the shop, improving projects, and problem solving. "I would say the most challenging project to date was the relocation of the existing plant to our new location," Larry explains. "A lot of planning and coordination was required to get equipment shut down, moved, and up and running with minimal impact to our customers and associates." Larry believes the best part of his job is working with an enthusiastic and talented group of people.
Over at the Piney Flats, TN location, Quality and Continuous Improvement Manager Tim Tate echoes these sentiments saying, "I work with good people. We play to win and the teams I work with don't care who gets the credit, as long as we win using the principles of ethics, value creation and integrity." In his role, Tim supports improvement opportunities that have a direct impact on driving down the overall cost of plant operations, while improving the customer experience of doing business with KPSG. He devotes a good deal of time each day to reducing inefficiencies and using data to determine opportunities at the plant. His efforts have facilitated around 15 kaizen events, and achieved cost savings of $750k over the last ten years.
Kevin Bennett is one of Tim's co-workers at the Piney Flats plant. The Senior Quality Technician started with the company back in 1999, and he is set to reach his 20th anniversary with KPSG next year. During his time, Kevin has been able to continue his education, obtaining his Associates degree as well as his Six Sigma Training. Kevin has discovered that the learning never stops at KPSG, and he is currently taking part in a challenging Boot Camp that covers training across all departments, giving him greater insight into how other teams operate. Kevin says, "I believe being able to learn about all of the areas within the plant has enabled me to be a knowledgeable and diversified employee."
Coming right behind Kevin in number of years at KPSG is Production Supervisor Luis Villa, who started at the Fort Worth plant in 2000. Luis began on the line, and after showcasing his commitment and proficiency, he was promoted to a leadership position. Now, he spends his days overseeing production duties and managing his team. Part of his role is bringing new ideas to improve production, quality and the culture within the plant. "I enjoy challenging myself to better manage people, and to make smarter decisions," Luis states. Luis is very dedicated to his team and KPSG, he tirelessly works 10-12 hours daily, usually long after his team has left for the day.  His "can do" spirit is motivating and is very much appreciated by his team, peers and leadership team.  The Metal and Wood Shop along with the Assembly Line, under Luis's guidance, has made tremendous strides in quality and productivity.  Luis's Assembly Complex Line is a model cell, they are the wizards of producing panels that are high in complexity; this line has been recognized by the other KPSG plants as being line to emulate.
Joe Lopez is one of Luis's co-workers at the Fort Worth plant, and also serves as Production Supervisor. While he started at KPSG just this year, he brings with him 25 years of experience in manufacturing. It's a good thing Joe enjoys his work, since as a supervisor, he clocks in at five o'clock in the morning! He oversees the staff on hand, and adjusts production as needed based on worker availability. He kicks off the day with all the employees to discuss safety, quality, and the day's production goals. Joe also gives a daily update to plant management regarding results from the previous day, then works to solves challenges that might arise. Collaborating with his team members, the door shop has been able to consistently produce on an average of 10-12 doors a day on an 8-hour shift.  Joe is a very passionate leader who strives to do better every day. "About 10 weeks ago I started working at KPS Global, and it was the best decision in my 25 years in manufacturing. I enjoy working with these experienced professionals and hope to stay here until I retire."
KPSG continues to thrive thanks to the commitment of its employees who are passionate about manufacturing high-quality, American-made products. "Nothing compares to doing a job you love with people who share the same passion and goals as you do," says Manager Sergiu Vrabie. "I can't think of a better group of people who I'm proud to call my co-workers."
Learn about careers at KPS Global by visiting https://kpsglobal.com/careers/ today!
Read more at kpsglobal.com
Latest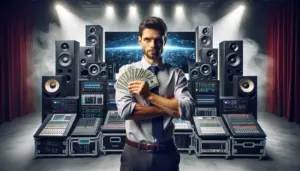 December 8, 2023
Mastering AV sales strategies in a global professional audio-visual (Pro AV) market, poised to reach $79.2 billion by 2028, requires much attention to detail. The surge in demand from corporate, government, and institutional sectors, driven by the need for enhanced productivity and efficient working environments, gives AV sales pros a lot of opportunity. In […]
Read More