KPS Global Cold Room Solutions in the Scientific Community
Scientific environmental chambers must meet exact requirements to keep sensitive research safe. Insulated panel systems for scientific cold storage manufactured by KPS Global are designed to accommodate vigorous environmental requirements–including those of scientific cold rooms used in multiple areas of critical scientific research.
What is a Cold Room?
A cold room is designed to control temperature and humidity, and these can function as low as 35°F. Today's researchers spend thousands of hours each year developing valuable samples that are critical to scientific research and thus require exact temperatures that scientific cold storage provides. Damaged specimens can result in the loss of all those hours in addition to hundreds of thousands of dollars in funding. The use of cold rooms, also called environmental cold rooms, helps protect the work of these professionals. Laboratory walk-in and cooler freezer systems deliver the necessary precise temperature control and uniformity to manage the delicate climate needs of the contents in each cold room.
In addition, careful attention to cleanliness and work practices is necessary for maintaining these environmental cold rooms. Mold growth must be avoided, for example. Chemicals must be stored properly. Since cold rooms utilize close air circulation, the mishandling of toxic chemicals can mean illness for those exposed, and in addition, flammable solvents can start fires. Something as simple as increased moisture levels or spills can lead to rust, which creates an imperfect environment and can compromise sample integrity. Clearly, the quality of the manufacturing and maintenance of these cold rooms for scientific cold storage is important to a variety of scientific industries.
KPS Cold Room Solutions
KPS Global® offers high-quality solutions for applications within the scientific community, including environmental rooms. KPSG designs and manufactures INSULFRAME high-density rail panels that can be custom-sized to fit any design. Three panel thickness options allow for easy control of humidity and temperature necessary in scientific cold storage. Because quality control is essential to controlled environment design, the inspection process is rigorous as KPSG strives to meet and exceed scientific specifications. Wall and ceiling panels are made of a solid core, poured-in-place urethane insulation in each cold room. Metal clad surfaces, designed to your specifications and with tongue and groove frames, are joined with a cam-lock that allows for easy and fast on-site modular assembly. KPSG has the experience and knowledge to manufacture the panels to meet the exacting specifications of cold room design.
KPSG Additional Offerings
KPSG manufactures panels for these cold rooms and so much more! They offer seamless installation and supply aftermarket parts and replacement equipment. With extensive custom project experience and facilities located coast-to-coast, their presence allows for individualized service, expedited deliveries, shrinkage of freight costs, and minimized risk of shipment damage. These dynamic qualities allow KPS Global to meet and exceed the needs of any customer searching for scientific cold storage solutions.
Learn more here about KPSG and its solutions across multiple industries.
Latest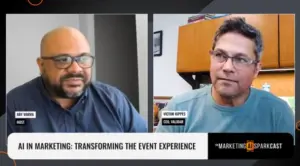 November 28, 2023
AI has been gradually changing the landscape of event technology at a very rapid pace. In an industry where staying ahead of technological trends is crucial, AI's impact on marketing and event management has become increasingly significant. As witnessed in the rise of account-based marketing and enhanced personalization, AI is effectively reshaping how events […]
Read More