Micro-Warehouses for Online Grocery Pickup: The Future of Click and Collect
Micro-warehouses could be the solution for retailers struggling to solve the growing demand for online grocery pickup. Fulfillment for online grocery orders remains a challenge for retailers. Consumers enjoy the convenience of one-click shopping, but grocery stores must have a solid plan in place to store the groceries prior to a customer's pick-up window.
Statista reports that online grocery shopping totaled $17.5 billion in 2018 with an expected growth to $30 billion by 2021. As the trend continues to increase, grocery stores will need to allocate space to manage click and collect, including the adoption of micro-warehouses.
What Is a Micro-Warehouse?
When customers order groceries online, this creates a new need for the grocer. As many items need to be kept cold or frozen, retailers need a way to store these products once they have been completed by employees and are awaiting pickup. This cold storage space also needs to be accessible to staff so they can quickly deliver them to the customer. This type of storage is known as micro-warehousing.
The space is, as implied, micro—so it's not as big as other walk-in cooler or freezer facilities. Micro-warehouses must integrate into the workflow of employees shopping for the customer, providing storage space for items until pickup. These small-scale facilities offer grocery stores the ability to create an area to best use their space and keep operations moving.
Micro-Warehouses and Click and Collect Shopping Helps Grocery Retailers Meet Consumer Needs
Micro-warehouses for online grocery pickup fulfillment are going to become an integral part of a grocery store's ability to sustain and expand its click and collect shopping options. Grocery stores will require solutions that integrate into their current footprint while being efficient from a cost perspective – micro-warehouses could be that solution. While this is an infrastructure investment, it's one that should have a high return, as it allows that retailer to meet customer demands in a cost-effective way.
This approach to grocery shopping is already underway. Albertsons is also looking toward micro warehousing and automation to boost its click and collect operations. Kroger, one of the largest grocery store chains in the U.S., has been remodeling its stores to make room for its ClickList program that enables shoppers to order online then collect their goods at the store. Walmart, which has become a leader in the grocery business, also offers convenient click and collect shopping for customers wherein they fill up their basket online and choose a time to pick up their goods.
To meet the ever-evolving need of modern consumers, the grocery experience of the future will be defined by convenience and flexibility.
Micro-Warehousing Click and Collect Solutions from KPS Global
Cold storage for online grocery pickup fulfillment is imperative to the entire process of click and collect, as many products need to stay cold. By using micro-warehousing, the need for temporary storage that is also climate controlled can be achieved.
We offer a fully integrated cold storage solution for click and collect staging areas and partner with the top micro-warehousing firms in the market. Our solutions are scalable, customizable, and include everything from design to coordination to installation. Learn more about our solutions for micro-warehouses for online grocery fulfillment.
Latest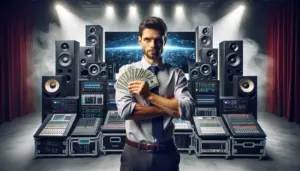 December 8, 2023
Mastering AV sales strategies in a global professional audio-visual (Pro AV) market, poised to reach $79.2 billion by 2028, requires much attention to detail. The surge in demand from corporate, government, and institutional sectors, driven by the need for enhanced productivity and efficient working environments, gives AV sales pros a lot of opportunity. In […]
Read More