How to Protect Your Most Abused Asset
Because walk-in coolers typically last for many years, some people take them for granted. As Food Equipment Reports magazine stated, the doors and hinges receive a majority of the abuse in the typical freezer or cooler. With this in mind, KPS Global® will explore how to install, protect, and maintain the doors to avoid unfortunate costly repairs.
Installation
Getting the door installed correctly is the first critical step in avoiding equipment breakdowns. Incorrect installations can increase operating costs or cause other problems in the future. As a leader in this area, KPS Global published a series of videos on how to correctly install a cooler or freezer door.
In this video series, professional from KPSG show viewers exactly how to perform each step. From applying the silicone to drawing a chalk line and ensuring panels are level, our highly-trained staff covers everything. Plus, we will show you how to stay safe with the right equipment.
It can be a complicated process, so anyone who is unsure about the process should call KPSG for professional installation.
Protection
The job isn't done when the door is on the hinges. The next step to proper cooler or freezer door operation is to protect this asset.
For example, kickplates can keep the cooler or freezer door from taking damage when someone opens the door with their foot or props the door open. Some kickplates can even help protect against damage from forklifts. Perhaps that is why many experts call this selection a must-have.
Safety features can not only protect the investment, but they can also keep the workforce from harm. Door jams and deflectors can prevent collisions in a busy area. Furthermore, goal posts can keep large, swinging doors from banging into walls and causing damage.
Maintenance
Once someone installs the door and protective equipment, the focus can shift to proper maintenance. The first step to maintaining any walk-in cooler or freezer door is to notice changes on the door. For example, if you see condensation or frost on the door, that could indicate that something is wrong.
Sometimes, changes in the patterns on the door indicate a change in the environment. Be sure that humidity does not exceed 55% around (or in) the unit. When humidity exceeds this rate, the problem often is that air flows through the open cooler door for too long. Remember, two minutes is too long to leave the door open.
If the temperature, humidity, and airflow are all correct and a walk-in still displays condensation, it could be a sign that something is wrong with the door. Because newer models must be more energy efficient, they often have fewer heaters. If one heater goes out inside the door, it could cause condensation.
Furthermore, the hinges, gaskets, and sweeps can wear down over time. It's crucial to never ignore these issues. Kicking the can down the road could lead to the need for costly repairs.
Helpful Hints
Condensation and frost are not the only factors that walk-in owners should attend to. These simple tips can keep a freezer and its door working well for longer:
• Keep all parts of the walk-in clean, including the door
• Inspect the doors and seals once every quarter, at least
• Check the temperature for variations every day
• Set up a regular maintenance schedule with an experienced technician
As the world's largest provider of custom walk-ins, KPS Global is proud to provide quality, durable products. We can customize units to fit any specifications, help install everything correctly, and offer replacement parts. If you need a replacement door, we can make one to meet your exact specifications. Our lead times are just five business days. Show your door some love!
Read more at kpsglobal.com
Latest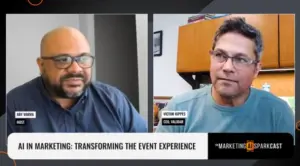 November 28, 2023
AI has been gradually changing the landscape of event technology at a very rapid pace. In an industry where staying ahead of technological trends is crucial, AI's impact on marketing and event management has become increasingly significant. As witnessed in the rise of account-based marketing and enhanced personalization, AI is effectively reshaping how events […]
Read More