SILICA SAFETY STANDARDS AND ENFORCEMENT: HOW REMOTE MONITORING CAN ENABLE COMPLIANCE
Protecting construction workers from silica is vital for worksite safety. Not only does it keep workers from harm, breaking silica-related regulations can be costly. While silica regulations have been in place for some time, new, stricter standards have been enacted and many in the industry are struggling to achieve compliance.
But what if a climate control solution was available with the ability to monitor the air for silica? It could be addressed with air scrubbers, filtration, and ventilation.
OSHA Defines New Standards
The Occupational Safety and Health Administration (OSHA) issued new standards concerning respirable crystalline silica standards for construction in 2017. Silica is 100 times finer than sand, making it exceedingly easy to inhale, and these new regulations bring necessary attention to the dangers of silica inhalation. 2017 OSHA standards permit only 50 micrograms per 1 cubic meter of air, whereas the previous threshold was 250. Further, the new standards go beyond limiting exposure. Organizations must endorse a written silica response plan and offer medical exams to workers that come into contact with it, including lung x-rays.
Silica Safety Enforcement
Months after OSHA's silica standards became effective, OSHA hit the field to enforce compliance. However, that has been somewhat without bite, as citations have been limited according to the Occupational Safety & Health Reporter.[1] This could change by the end of the year as many citations aren't submitted until six months after an inspection. The citation found to be most common relates to the failure to monitor the job site for the toxin, a critical element of the standard. OSHA has the right to do more than just an issue a citation, and non-compliance can result in fines up to $12,934.
Managing Silica OSHA Compliance
Silica, although naturally occurring, isn't safe for humans, causing injury to the lungs. Thus, OSHA is serious about compliance with the latest silica standards. Yet compliance isn't always easy–but it's not optional either. That's why organizations must develop a plan that keeps workers safe. One way to ensure compliance is the use of a remote monitoring system that provides continuous censoring and delivers reports to keep stakeholders informed on a space's air quality. When silica levels are high, remote monitoring capabilities ensure that workers are not exposed to risk. In addition, filtration and air movement tools can be employed to clean the air to sufficient levels.
Find Better Tools for Compliance
Although compliance is lagging, awareness is growing. Most contractors want to do the right thing and comply, but lack of knowledge or proper tools can impede their conformity. Since monitoring is essential to limiting exposure, businesses that utilize the proper equipment will not only keep workers safe but achieve compliance as well.
Polygon offers remote air quality site monitoring with climate control solutions that can address silica counts when they exceed tolerance standards, providing a cost-effective and efficient way to meet OSHA's new requirements. The ExactAire® from Polygon facilitates remote monitoring, delivering immediate alerts of potential problems via e-mail or SMS, with short- and long-term reports on maintained conditions available any time. Learn more about how ExactAire® works and how Polygon can simplify OSHA compliance.
Read more at polygongroup.com
---
[1] https://www.bna.com/silica-safety-enforcement-n57982091432
Latest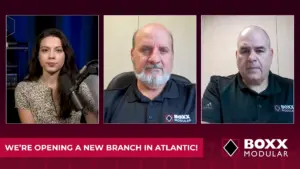 December 4, 2023
In an era where construction innovation is reshaping the industry, modular construction's growth continues to rise. In this episode of Built Modular, Boxx Modular's strategic expansion into Moncton, Atlantic Canada takes center stage. Host Gabrielle Bejarano welcomes Charles Landry and Ray Girouard to explore the implications of this venture. Bejarano, Landry, and Girouard discuss […]
Read More