The Top 5 Most Innovative Uses for High-Content Post-Consumer Plastics
According to National Geographic, more than 8 million tons of plastic are being dumped into oceans around the globe each year. As bleak as that news sounds, it will likely get worse. If we do not change how we use and manage plastic, those 2015 numbers will increase 10-fold by 2025.1 Understandably, there is a huge push to find ways to repurpose plastic, one of the least eco-friendly materials. In fact, it takes one plastic bag between ten and twenty years to fully decompose: the same amount of time it took to build the Great Pyramid of Giza in Egypt.2
There is some good news, however. Companies all over the world are looking for, and consequently finding, some interesting ways to keep plastic out of our oceans and landfills. And here are the top five most innovative uses of post-consumer plastic:
5. PakTech, a company based in Eugene, Oregon, makes carriers and handles for beverage containers. In 2012, they began an initiative to move to 100% PCR (recycled plastic) for their products.3 Their first efforts were in re-thinking their hard-top can carrier for six packs of craft beer. In year one, 7% of their plastic was recycled HDPE, or high-density polyethylene, a highly recyclable plastic. Year two saw 20%, and so on, until 2017, when they hit 70%, purchasing 8.8 million pounds of PCR. And it all started with a beer.
4. Companies from every continent are investigating the use of PCR in their concrete mixtures for large construction projects. According to a study completed by the Engineering Department of the University of Basrah in Iraq, it is possible to create a more durable version of cement from plastic packaging.4 Another study at MIT concluded that the PCR concrete was up to 15% stronger than conventional concrete.5 Since water is the only substance ahead of concrete for the most widely used material on the planet, this is good news for Earth. And with concrete structures typically lasting many decades, this is a solution with longevity.
3. Green Toys, in business since 2008, is a company true to its name. Based in the eco-conscious San Francisco-area city of Sausalito, their toys are 100% PCR manufactured with a small amount of colorant added. Now producing items like toy cars and play housewares, they are working hard to expand their product line.3 Happy children; happy Earth.
2. You might be too old to play with toys, but you're never too old to wear pants. US-based Foss Manufacturing produces its polyester fiber and fabrics by making textiles from recycled materials. Eco-fi is a "high-quality polyester fiber made from 100% certified recycled plastic PET bottles."6 Foss is using Eco-fi to create blankets, carpets, home fashions, and, of course, pants. That 12-pack of bottled water you threw out last month was the equivalent of one pound of fiber, and that's the naked truth.
1. And our favorite use of post-consumer plastic can be found outside Somerset House in Central London. Berlin and London-based Pentatonic, in partnership with the London Design Festival, set up a public camp to display just what magnificent creations can come from recycled plastic. Utilizing a green machine whose process transforms plastic into tiles, the furniture company with a conscience uses the tiles to design highly imaginative artistic outdoor displays.7 Their machine, known as Trashpresso, runs on solar power and leaves a zero water footprint. The best part? It's mobile. It might even make its way to a neighborhood near you. Don't forget to bring a donation of plastic bottles.
Recycling can be fun, but the damage that plastic is doing to our earth isn't a laughing matter. That's why Welformed works hard to protect our planet. We use high-content post-consumer plastics and custom composite materials that control moisture and will not mold, mildew, stain, or crack. Using these principles, we can customize parts to meet your needs while keeping our oceans clean.
Welformed is your partner for high-quality, customizable, lightweight, durable parts; dedicated service and competitive prices.
Read more at welformed.com
___________________________________________________________________
1https://news.nationalgeographic.com/news/2015/02/150212-ocean-debris-plastic-garbage-patches-science/
2https://www.saveonenergy.com/material-decomposition/
3https://resource-recycling.com/plastics/2017/07/12/companies-dig-into-post-consumer-market-demand/
4https://www.sciencedirect.com/science/article/pii/S2351978917300872
5http://news.mit.edu/2017/fortify-concrete-adding-recycled-plastic-1025
6http://eco-fi.com
7http://www.designindaba.com/articles/creative-work/trashpresso-transforms-plastic-bottles-stunning-architectural-tiles
Latest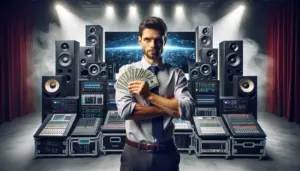 December 8, 2023
Mastering AV sales strategies in a global professional audio-visual (Pro AV) market, poised to reach $79.2 billion by 2028, requires much attention to detail. The surge in demand from corporate, government, and institutional sectors, driven by the need for enhanced productivity and efficient working environments, gives AV sales pros a lot of opportunity. In […]
Read More