What Does it Mean to Be a Leader?
Blue Collar Leadership and the Intersection of Swiss Precision and American Ingenuity
Mike Uebersax, CEO of Element Designs, recently sat down for an interview for the AEC podcast, brought to you by MarketScale. A high impact blue-collar leader, Mike is known for being cheerful, eminently approachable and always authentic. For the podcast, he shared several lessons he's learned in his role as a blue-collar leader, including the value of developing your people. He says it's important to do so just because they are your people, not because doing so results in some expected ROI.
Mike is also a big believer in leaders being willing to grow and learn in front of their team. He doesn't dress differently than the people who work in his plant, and he doesn't make people go to him. Instead, he takes the first step and engages directly with his workforce so everyone at his company feels they can go to him with questions or ideas. Mike says that a lot of what he has learned—and much of what he practices—can be traced to common sense respect that can be easy to forget.
To learn more about Mike's approach to leadership, please enjoy the podcast.
[spreaker type=player resource="episode_id=15198125″ width="100%" height="200px" theme="light" playlist="false" playlist-continuous="false" autoplay="false" live-autoplay="false" chapters-image="true" episode-image-position="right" hide-logo="false" hide-likes="false" hide-comments="false" hide-sharing="false" ]
Read more at element-designs.com
Latest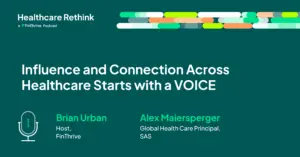 September 29, 2023
In the latest episode of the Healthcare Rethink podcast, presented by FinThrive, host Brian Urban sits down with Alex Maiersperger, the Global Principal Healthcare at SAS. Their conversation charts the role voice plays in influencing and connecting the healthcare industry. Maiersperger, who co-founded the Advancement League, shares his journey from being a healthcare optimist to […]
Read More