Are Hotel-to-Apartment Adaptive Reuse Conversions Worth the Investment?
The need for affordable housing, especially in major cities, is a constant challenge for tenants, an often-nebulous investment for developers, and a point of contention for city officials. A recent trend meant to fill this void and buoy development costs is getting mixed results, and its being attempted by several metros: Converting unused and underused hotels and office buildings into apartments. New York City earmarked $200 million to make hotel conversions a reality; after months of planning, the project is defunct, with not a single apartment converted. On the other hand, California successfully created 12,500 homes over the past twenty-four months out of former hotels, costing around $846 million from federal COVID relief funds. Many in the industry are now wondering what went wrong in New York and whether this is a sign that hotel adaptive reuse projects are more trouble than they're worth.
Leaping into hotel reuse projects comes down to the numbers says GP Theriot, Sr. Mortgage Loan Officer at Origin Bank and mortgage financing expert.
"How are they leveraging the financing, based on what types of loan can they get out there to where their return makes sense in the long run. Strategy-wise, they've got to have a good financial plan to ensure they're getting a good return on when they start charging rent based on the loan they do have," he said.
From a rebounding tourist industry giving hotel owners pause on selling their buildings to stringent building codes, policy debates, staffing shortages, various union demands, all these factors created strains that put hotel adaptive reuse in the Big Apple in jeopardy.
Meanwhile, in the Windy City, Chicago's Lorali, a vacant single-room occupancy hotel, is destined to become an 80-unit market-rate loft apartment complex. The repurposed space will include parking, a gym, and 5,000 square feet of commercial space to complement a hybrid of micro-studio apartments up to two bedrooms. Some believe projects like the Lorali are still too unaffordable for the underserved in the community. Still, it is one step closer to providing much-needed livable space for people wanting to reside in Chicago and adds to the collection of cities undertaking adaptive reuse projects like Los Angeles, New Haven, and New Orleans.
Armstead Jones, President of Imagine Think Tank, a commercial and residential real estate solutions provider, believes adaptive reuse of hotels is critical in providing options for potential city residents.
"There's a need in the marketplace from market rate. I think that we should be looking to build more, especially since many of the market-rate products out there are what they consider class B and class C, which are garden-style apartments normally located in your suburban areas. Many people are moving back into cities where you see more class A, which are brand new redevelopments, or adaptive reuse apartments," Jones said.
The need for office space in major cities throughout Texas dwindled during the pandemic. To fill the gap, Texas bought into the adaptive reuse concept. Dallas-based Todd Interests has completed several such conversions, and Theriot said Downtown Dallas is one area where this real estate strategy is taking a strong hold.
"I think now is the best time for apartments, buildings, and especially for cities like Dallas. They're really looking at revamping the downtown, and they've started that. We're seeing many of these cool old buildings being revamped and turned into apartments, which brings the welcomeness of people wanting to return to downtown," he said.
One factor that may dampen the trend for hotel-to-apartment adaptive reuse projects is costs, which plagued New York City's once optimistic outlook for the idea. In many cases, it is less expensive for developers to build something new outside of a major city than to redevelop an existing building. Another factor potentially throwing commercial space conversion projects is steadily rising interest rates. A 0.75 percentage point rate hike announced by the Federal Reserve on September 21 has brought interest rates to their highest levels since 2008. These increases will further impact the cost of debt-financed commercial building projects.
The current economic climate may not be the ideal situation builders and developers would like, but there is still a need for affordable housing and a lot of underutilized hospitality and commercial properties, which means the opportunity is there for those willing to look for smart investments.
"I think with the reuse of these buildings turning into apartments, it's more critical now than ever, based on where our economy is," Theriot said. "And what I mean by that is rates are going up as is inflation, so usually people are going to pull back and not want to proceed on an investment like this for commercial properties of reuse. But with all that said, inventories are low on the residential side. I'm seeing many discouraged people who can't get home ownership, and the apartment industry is just blowing up. I highly encourage talking with investors out there. They're excited. This is the time to jump in."
Jones recognizes rising interest rates are a concern for debt-fueled and capital intensive projects, but believes adaptive reuse projects are worth considering, and could be worth the cost.
"A lot of times, these properties have lived their useful life or development cycles. They've existed for ten, twenty, and thirty years and the communities around them have changed. The needs around those communities have changed, so people need to factor in new uses for their own properties. And I think it is a great time to look at those uses because in many cases, you probably can maximize return on investment," he said.
No matter the financial climate, people in the city need places to live. If the location and costs make sense to property holders, innovative solutions like adaptive reuse may be worth the serious consideration.
Latest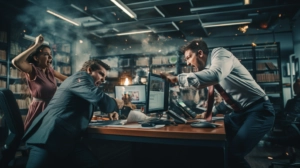 September 22, 2023
The kind of news that is delivered everyday serves as a grim reminder of the escalating violence across the U.S. Evidently, the need for proactive measures to ensure safety has never been more pressing. Such violence is not limited to any particular locale. It's actually permeating in so many different areas once considered […]
Read More