Building Blocks of Safety: Why Technology is Crucial for Creating Safer Construction Sites
Construction sites are inherently dangerous and with conditions changing daily from site-specific changes to weather conditions, it can be difficult to keep employees and contractors safe. In fact, 1061 employees died working in construction throughout 2019. Injuries for the same year were recorded at 79,660 with falls, slips, and trips accounting for more than 30% of all fatal and non-fatal incidents.
Technology-based safety gear is aiming to create a safer construction work environment while also protecting people's overall health. Everything from smart wearables to drones and autonomous vehicles to augmented reality is set to revolutionize the construction industry. The potential is so great that "investment in U.S. based construction technology startups mushroomed 324% to almost $31.billion" between 2017 and 2018 alone."
Despite this, "the construction industry is not necessarily known to push the boundaries when it comes to tech or innovation. It's generally a status quo industry," explained Kishan Patel, VP of Product at HCSS. He continued to note that "safety is the biggest bucket where it is the largest room for improvement. It is also the space where there is the largest amount of innovation happening in that space right now. It is also the biggest place where a company can get the largest return on investment."
Digitizing Processes Opens the Door to Advanced Tech
The first major technology to transform construction site safety was the ability to digitize processes. Digitizing safety audits had a massive impact throughout the industry. No longer did project leaders have to transfer data to excel spreadsheets and charts, etc. to try to make connections and interpret trends.
Digitizing safety audits "helps to analyze vast amounts of past safety data from previous audits, incidents, accidents, injuries – and with artificial intelligence and all that data it can actually predict where an incident may happen based on the attributes you've added to the system such as project size, location, type of equipment being used, the experience of the employees on site," explained Scott Anders, CSP, CHST, Safety Director at VCC Construction.
Having this information gives project managers the ability to identify where incidents are most likely to happen and put additional resources in place to try and prevent an incident. However, digitizing processes is only the beginning of the technology revolution for construction risk management. The rapid evolution of wearable technology, artificial intelligence, and machine learning are enabling the design and development of technology that has the potential to drastically reduce workplace injuries and fatalities.
Technologies Posed to Disrupt the Construction Industry
"Over the past several decades, I've seen construction technology evolve from rudimentary efforts like aluminum hard hats to highly sophisticated building information modeling, virtual reality workspace simulations, and occupational exoskeletal devices like passive back, shoulder, and leg assistance," said Steve Jordan, CHST, CSHO, STSC, Director of HSE at Flintco.
Following is a brief overview of a few of the technologies being developed to help manage construction risks:
Virtual Reality – VR is best used in training situations to avoid costly mistakes and the possibility of putting others at risk. Anders uses backhoe training as an example in which new operators are usually trained onsite. With VR, individuals can train in various situations without ever putting anyone at risk.
Wearable Tech – The evolution of wearable tech for the construction industry is nothing short of amazing. From smart boots to smart helmets and smart monitors to smartwatches, wearable technology is one of the least expensive ways to integrate advanced safety protocols into existing processes.
Drones – Anders also talks about the popularity drones are gaining as they are extremely useful for assisting with inspections especially when they need to be done at heights. Using drones for inspection can eliminate fall hazards. They are also useful in identifying hazards and taking aerial pictures of job sites to note progress or address challenges.
Telemetry Wearables – These are designed to ensure that "the right people are in the right places at the right times for their role and that they are not getting exposed to excess risk or interacting with hazards that they just don't need to," explained Ian Ouellette, VP of Product, Triax Technologies.
And this is just the beginning. Additional available technology includes self-driving equipment, robots, exoskeletons, and more. While future advances are sure to continue taking safety to another level.
"I think the future of safety technology is starting to breach the hard to access, how are folks doing work in their direct tasks or their primary work right? I'm talking about slinging a hammer. I think that's where safety technology is going. Now, it's about behavior modification with the way people do their primary tasks and real-time intervention for risky situations," Ouellette continued.
Overcoming Resistance to Change with a Safety-First Mindset
Despite the many safety applications available, there are challenges to introducing technology into the world of construction. For one, the upfront investment is significant. Secondly, there needs to be a mind shift within the industry – one that embraces the new technology and its potential.
"In some ways, the construction industry has been slow to adopt new safety technologies for the reasons you would expect. Cost can be a factor, and resistance to change is another, the if it ain't broke why fix it mindset is especially dangerous when it comes to safety. Waiting to address lapses in safety equipment and adopting best practices can have disastrous consequences. And the fear of the unknown can stymy progress," Jordan said.
Despite this getting upper-level management and stakeholders to buy into bringing tech onsite may be a matter of showing them case studies and evidence that the return on investment will be worth it. Beyond keeping employees, contractors, and visitors safe, the technology can increase a company's profitability and make them more attractive to employees helping to address staffing shortages.
"An investment in safety tells your prospective employees and your existing employees that you genuinely care about them and their well-being. It helps reduce unwanted expenses when it comes to fines or workers comp. It lowers your EMR insurance rates, therefore, improving your profit margins and running a profitable project. And it showcases to potential owners that you are a serious partner to be considered for future work," explained Patel.
Culture Change is on the Horizon
Whenever something new enters the picture, there is a period of adjustment and a mindset shift that takes place before it becomes commonplace. By nature, people are generally resistant to change. This is no different when introducing new technology into construction sites where people's lives are at risk daily.
However, A study by the U.S. Chamber of Commerce reported that they expected wearable tech to grow from being used by 6% of contractors in 2018 to 23% in 2021. Clearly, the benefits of incorporating these advanced risk management techniques are growing in popularity. And as it continues to be adopted in various forms, the technology will be able to showcase how it can not only help prevent injury and death but improve the overall health of workers.
Steve Jordan said it best, "keeping people safe is a daily pursuit for everyone, it's a process with no finish line." So, what does the future of construction look like? Only time will tell.
Latest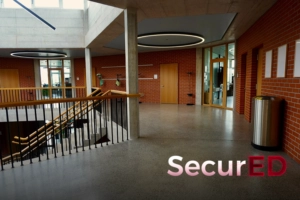 September 21, 2023
In a recent segment of SecurED, hosted by Mike Matranga, CEO of M6 Global Defense, and featuring Marshall Caplan, Senior Security Consultant at M6 Global Defense, the conversation delves extensively into the vital subject of school security. This engaging discussion centers on the reevaluation of priorities within the realm of school safety and security, […]
Read More