What Can Art Do For Airports?
Airports have long suffered from a reputation of stress and anger among travelers. This is mostly tied to long lines, crammed spaces and steep prices. However, interactive experiences including art installations have begun to turn the tide of public opinion back into a favorable position.
This video shared by Ivo van Breukelen, Sales Manager at Sempergreen USA, shows the Singapore Changi Airport's Kinetic Rain installation.
According to the airport, the display is made of 1,216 bronze droplets that transform into as many as 16 shapes. It took approximately 20 months to create, and was designed by German firm ART+COM studios.
For the latest in architecture and design news, head to our industry page! You can also follow us on twitter at @AECMKSL! Be sure to join our join the conversation in our Market Leaders LinkedIn groups!
Latest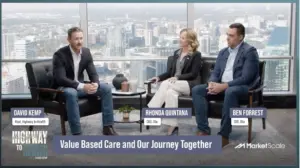 December 7, 2023
As of recent times, the healthcare industry has been progressively shifting towards value-based care, a model that emphasizes patient outcomes over the quantity of services delivered. This transition represents a significant shift that promises to enhance patient experiences and outcomes while controlling healthcare costs. With a growing emphasis on this approach, especially over the […]
Read More