Kipnis Architecture + Planning Lands on Boulder as Sustainable-Minded Expansion Site
Principal Nathan Kipnis of Kipnis Architecture + Planning joins host Tyler Kern to touch on the company's decision to open a new office in Boulder, Colorado.
Boulder, Kipnis said, was the ideal place for his business's expansion to begin the new decade because of the city's wholistic approach and commitment to sustainability.
Previously, Kipnis shared with MarketScale critical insights about green architecture and building practices at the Chicago Build Show.
Kipnis's love of Boulder began during his undergrad studies in the town.
"It was just amazing to see a town back then in the late 70s that was practicing that," he said. "It's very inspirational."
While Boulder may have been ahead of its time, Kipnis said he feels the rest of the country is catching up as attention to climate change and environmental responsibility accelerate. As far as trends moving into the new decade, Kipnis highlighted the lowering costs and increased availability of solar power and new battery solutions that allow for more efficient power, as well as a commitment to designs that are more resilient to the effects of climate change and save money in secondary building costs.
Latest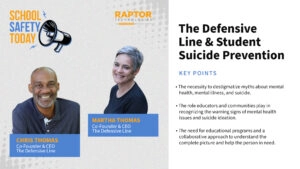 September 22, 2023
Student suicide prevention is a paramount concern among mental health providers. For one organization, student suicide prevention is more than a concern: it's their mission. The alarming rise in mental health crises among youth has become a pressing concern in recent times. With the complexities of modern life and the challenges of the digital […]
Read More