"The Lighting Professor" on Trends and Design at KBIS 2020
MarketScale was in attendance at KBIS 2020 this year, getting an idea for what's driving the kitchen and bath industry as innovation blooms and a new decade of design dawns.
Joseph Reybarreau, known as "The Lighting Professor," offered up his unique insights about what might be coming down the pipe in the world of lighting.
"This is a very interesting time in the lighting industry, so there are many trends that are currently happening," he said.
In particular, Reybarreau said LED lighting will continue to grow in important, especially RGB LEDs that can be changed in real time and their potential impact on the leveraging of our bodies' circadian rhythms, interesting new LED products, the impact of the shrinking size of LED and recessed lighting solutions, and the future of smart-home technology as it relates to lighting.
Reybarreau also got into how lighting can boost productivity and efficiency, which verticals are acting the quickest to jump on the innovative lighting bandwagon, and lighting's role in increasing attempts to achieve sustainability.
For the latest news, videos, and podcasts in the Architecture & Design Industry, be sure to subscribe to our industry publication.
Latest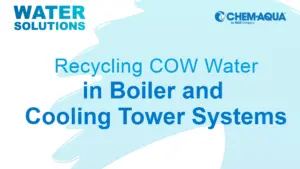 December 7, 2023
For the latest episode of ChemAqua's Water Solutions podcast, the focus was on an innovative approach to water conservation in the dairy industry. The show examined the potential of reusing Condensate of Whey (COW) water, a byproduct of dairy processing, and highlighted some of its economic and environmental benefits. Hosted by Dani Waddell, the informative […]
Read More