Translating Vision into Sustainable Action
Ramie Vagal, Senior Sustainability Manager at Mohawk Industries, joined Build for Impact host, Daniel Huard, for a discussion on sustainability, equity, material transparency, and wellness. Vagal also serves as a member of the LEED Materials and Resources Technology Advisory Group.
"I think any organization should not look at sustainability from just one aspect," said Vagal. "It should be considered something which is more holistic as well as ingrained into your strategic planning."
Huard and Vagal also discussed the concept of hand printing, which is a wide-reaching approach that spreads sustainability education and awareness to positively impact entire communities. The pair shared recent hand printing examples they were involved with and how the efforts improved the sustainability of the surrounding areas.
Designing for social equity was another key topic. "We are always focusing on a solution that's inclusive," said Huard. Creating buildings that are equitable and accessible to all people must be considered in building planning. 
It is also important to truly understand the needs of the people and landscape of the area as well. "It cannot be one size fits all, especially when it comes to equity," remarked Vagal.
Vagal and Huard commented on material transparency and the substantial progress the industry has made in recent years to eliminate harmful materials and incorporate lifecycle information into material choices.  Vagal mentioned that there is still work to be done to streamline certifications and improve the efficiency of the material transparency effort.
The two concluded their discussion with wellness.  Considering human health and wellbeing when designing can have a major impact on how people are affected by indoor and outdoor spaces.


Latest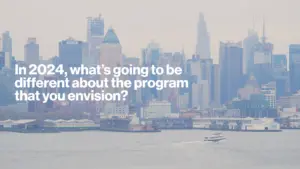 December 1, 2023
In the dynamic telecommunications landscape, Verizon's Partner Network continues to evolve, adapting to new trends and opportunities. For another segment featuring Mark Tina, VP of Indirect Channel Distribution and Channel Chief at Verizon Business Group, he explores exactly what types of significant changes and advancements the Verizon Partner Network will see in 2024. In this […]
Read More