Why Architects Need a Dedicated Audiovisual Partner
At its core, architecture is a creative field – architects seek to create stunning and lasting spaces, and that process can feel like an extremely personal one.
However, architects shouldn't let this result in them attacking a project alone.
By leveraging the technical expertise of a professional audiovisual (AV) integrator, architects can engage in a collaborative partnership that not only elevates the design, itself, but ensures the entire process in met head on with an eye on the future and adaptability.
It's important, then, to adopt that collaborative mindset – architects aren't running for help but are making a conscious decision to provide the best result possible.
Here's how they can do just that.
Overcoming challenges with the help of an AV professional
According to Alan Wilkinson, Electrosonic Business Development Manager – Entertainment, there are three main challenges that an architect can attack with the help of an AV professional – technical feasibility, cost certainty and operability.
The technical feasibility component is self-explanatory – as an architect or other design professional dreams up a space and how it will look and function for those using it, they often create first and ask questions later.
That's where an AV professional can enter the equation. By consulting with an AV professional early in the process, architects and designers can ensure their vision matches what's possible with today's AV technology and save valuable time redesigning and adapting plans down the road.
Cost certainty is another key area where AV integrators can step in and elevate a project. By consulting an AV professional about a space's design and capabilities, architects and designers, and the firms writing the checks, can gain a new level of certainty about the cost of a project.
"Cost (is the area where AV professionals can have the biggest impact), whether this is capital outlay or operating costs," Wilkinson said. "Providing a realistic budget from a start of a project through to its operation and maintenance is key. Many publicly funded projects that allow for capital, but not operational costs, run into severe problems once open."
Finally, operability is another enormous area of concern that can be addressed with the help of an AV integrator. When an AV professional is on-site and hands-on from the get-go, the project's designers can be sure that the AV solutions needed, both upon installation and throughout their life in the space, are safe, reliable and functioning properly.
Collaboration brings benefits for both sides
When architects, particularly those that are heavily involved in AV design and implementation in a space, partner with an AV professional, a relationship can result that keeps the architect on the cutting edge of AV technology and the AV professional on their toes and creating new, exciting spaces.
However, Wilkinson said, that collaboration can depend on the nature of the architect's involvement.
"The architect will not always have a direct role in the design of the interior fit-out. An example of this could be a large museum where another member of the interior design team may be responsible for AV specification. In this instance, the architect may only be responsible for delivering a building shell and basic services," he said. "At the other end of the scale, there are architects who design buildings clothed in AV – so called 'media facades' – and make massive use of AV and technology within the building, too."
The aim, regardless of the amount of involvement, is to engineer a smoother process throughout the entire life cycle, ensure the best solutions are found and implemented correctly, and align those solutions with the philosophy and purpose of the space, itself.
If all those goals are accomplished through collaboration, revisions and additional work are cut down significantly, allowing designers and builders to deliver on their promise and get it right the first time.
Creating impactful experiences
When it all comes together, the result can be truly stunning.
Wilkinson highlighted the Ahmed Al Jaber Oil & Gas Exhibition, which serves as an example of both the necessity for collaboration between AV professionals and the architectural team in large, public spaces and of the thrilling experiences this teamwork can create.
The "Heroes of Fire" exhibit, a panoramic experience in the Exhibition that brought together motion, special lighting, fire, smoke and traditional AV mainstays like powerful audio and video, required special attention.
"As well as flat panel display projection and audio, this auditorium in the exhibition uses propane fire and liquid nitrogen special effects," Wilkinson said. "This required extensive collaboration with the architectural team regarding ventilation and life-safety systems."
Another success story can be found in Bristol, UK's Being Brunel Visitor Center, where guests are treated to an intimate and awe-inspiring look at the life of legendary engineer Isambard Kingdom Brunel.
"(A) gigantic head encases a domed theatre telling the story of inventor Isambard Kingdom Brunel's life. The show uses sound projection and various special effects to tell this story," Wilkinson said. "Floor loadings, projection space and surfaces, acoustics, ventilation, and audience holding areas, where they wait for the next show, all had to be meticulously designed with the architectural team."
Connecting architectural design to Electrosonic's Technology Master Planning
Electrosonic has developed a comprehensive process known as the Technology Master Planning™ methodology, and its applications in collaboration between AV professionals and architectural and design professionals are groundbreaking.
With Technology Master Planning™, much like when architects embark on a project, Electrosonic and its partners move through three phases – prepare, define and design.
By overlaying an integrated technology framework into the architectural design and working to understand a client's vision together, Electrosonic and its partners can save valuable time, money and resources.
Like the architectural process, Technology Master Planning™ finds success through open collaboration between stakeholders and experts, involving everyone from the beginning of the project in order to ensure all challenges, considerations and complexities are taken into account when it matters most.
Want to learn more about Technology Master Planning™? Check out Electrosonic's video on the subject to get a better idea of how the methodology can help you.
Interested in working with Electrosonic on your next stunning space? Contact them here.
Latest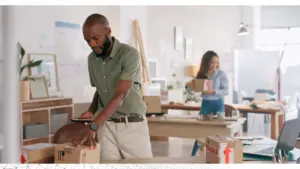 November 29, 2023
While the logistics industry often gravitates toward cutting-edge technology, Wesley Boyce, an Assistant Professor of Practice in Supply Chain Management and Analytics at the University of Nebraska-Lincoln, brings to light the enduring significance of radio communication. In a world enthralled by digital innovation, he argues that the simplicity of radios could be their greatest […]
Read More