Aspiring HVAC Technicians Today Need Tech Skills As Much As Hands-On Abilities
Smart homes and intelligent building systems are not only reshaping how we interact with our environments, but are also fundamentally altering the skill set required to maintain them. Once upon a time, HVAC technicians were chiefly concerned with hands-on capabilities and a working knowledge of basic refrigeration cycles. Fast forward to today, the age of smart HVAC systems, and it's a completely different ballgame. These modern systems demand a hybrid expertise that has shifted HVAC with electronics, IT software, system controls, and automation. 
This seismic shift isn't just a wake-up call for technicians; it's a challenge for educational institutions tasked with molding the workforce of tomorrow. Trade schools and vocational programs are in a continuous state of adaptation, and attempting to keep up with the evolving technology and diverse learning needs of students. 
Educators like Osvaldo Caballero, Director at Lone Star College-Construction Technologies, are at the forefront of defining what it means to be an HVAC technician in the 21st century. A former student with his current employer, Caballero now leads the program as the director for the past five years, and he was previously the Electrical Lead Instructor of the program. He is also a certified Procore Administrator.
Caballero stated that the way the HVAC industry evolves, so does the training for it. He further added that knowing how to use certain modern tools is now the norm in learning HVAC.
Caballero's Thoughts on HVAC Technicians
"Good morning. My name is Oswaldo Caballero. I'm the director for constructive technologies at Lone Star College, North Harris. That includes HVAC technology, electrical technology, and constructive supervision. On the question of, how is the rise of smart HVAC systems impacting HVAC training and skill development, as an HVAC leader, observing the rise of intelligent HVAC systems has significantly and directly impacted the training and development of our future workforce, technicians, and curriculum. As with many of other skill traits, HVAC technology is in constant state of evolution. It has recently entered a digital revolution, like many others. In the past, experience, tool handling, and knowledge of the basic refrigeration cycle for a technician was paramount. 
"The success of the current HVAC technician relies more and more these days on technological skill sets rather than just basic information. Future technicians must possess strong knowledge of electronics, system controls, IT software, and system automation. The use of digitalized tools and specialized equipment is required to work on these highly complex HVAC systems and controls. In response to the paradigm, trade schools, like us, are constantly in a state of adjustment. Preparing, planning, training, and teaching are continually modified to fulfill and stay up to date with this technology demand. Technicians need to be prepared mentally and have the ability to adapt to current technology trends. Limitations are always present when introducing and shifting curriculum. HVAC learning programs have a technology and diverse student population due to the students' past levels of exposure. Filling the needs of the individual student while keeping on track with course objectives has created a continuous challenge. Students' engagement is essential to the success of training and development of the technicians joining the trades. Therefore, developing targeted lectures, meaningful laboratories has become more demanding, as well as finding qualified and passionate instructors to join the education side of the trade. Thank you."
Latest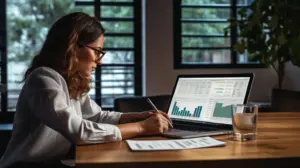 October 4, 2023
The intersection between security and financial acumen often gets overshadowed in a constantly changing economic landscape. While security is essential for safeguarding assets and ensuring continuity, its perceived monetary value is mired in misconceptions affecting company profitability. For many, security is viewed primarily as an expense rather than a potential cost-saver. However, understanding […]
Read More