B2B Back to School: How Food Delivery Is Complicating Campus Security
Key Quotes
02:25-03:16 – "[Schools] have been assembling the systems over the past twenty years. So if you go back twenty years, no one had a plan in place. No one could give you a plan and if you followed it, you would have a safe campus."
04:30-5:05 – "These sixth graders, seventh graders are going on door dash and ordering their lunch. And you go to the college and the university and it used to just be the pizza guy and everyone knew who he was…"
06:50-07:07 – "[When designing a security system] you have to make it accessible , you have to make it easy to move around in in order to make it effective. Otherwise they [students] will find the easiest way through."
009:14- 09:30: "Automatic license plate recognition give you the ability to track who is coming and who is leaving campus."
23:30-23:50 – "Probably the biggest issue is privacy"
Running a safe campus has always entailed an immeasurable number of variables. The digital age has exacerbated the factors at hand for administrators and campus safety officials. While the systems and technologies responsible for securing campuses have become stronger, safety threats have grown more diverse.
"What I'm hearing from the vast majority of people is 'I have too many technologies. I have six or seven different technologies I have to use every day, and I'm trying to figure out the best way to manage those systems because I'm being asked to add more.'," Terry Schulenburg, Business Development Manager for Education Markets at Genetec said.
Genetec is a Montreal, Quebec-based computer software firm.
Something as ubiquitous as Uber and food delivery services are causing security concerns from schools of all sizes and locations. Finding ways to verify whether or not cars are supposed to be on campus is a challenge of its own, on top of all the other concerns schools must deal with.
"We are seeing more and more criminals parking on campus, walking down the street and robbing a bank, coming back to campus and leaving because it's a really easy place to hide your car," Schulenburg said.
Campuses have the technology to keep students safe, but innovation will have to keep up with the dynamic security challenges that continue to arise around them.
Latest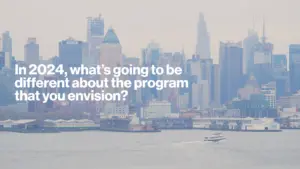 December 1, 2023
In the dynamic telecommunications landscape, Verizon's Partner Network continues to evolve, adapting to new trends and opportunities. For another segment featuring Mark Tina, VP of Indirect Channel Distribution and Channel Chief at Verizon Business Group, he explores exactly what types of significant changes and advancements the Verizon Partner Network will see in 2024. In this […]
Read More