Competing with WFH: How Companies are Designing Swanky Offices to Entice Employees
Three years ago, most corporate employers moved their workplaces entirely online. Now, bringing employees back is proving to be a challenge. The flexibility and convenience offered by work-from-home jobs mean many employees do not want to return to the office. This much is clear from the results of a recent Gallup survey: While a hybrid model was the most preferred, more than a third of the employees surveyed preferred complete remote work, and less than 10% actually wanted to return to the office full-time. As major corporations shut down plans for corporate real estate expansion, can the architectural vision and design of the office play a role in bringing employees back into the office, or is this a lost cause? Some companies seem to think it's not; employers are turning to refurbishing their offices to entice employees.
Investment firm Nuveen, for instance, renovated the terrace of its Manhattan office and devoted an entire floor to just amenities (and even beekeeping opportunities!) — at a cost of a whopping $120 million. Software corporation Autodesk, meanwhile, has opened a fancy new workspace at San Francisco's 300 Mission Street. It features a game room and, keeping with Autodesk tradition, a chic kitchen that offers free soft drinks.
How should offices strategically rethink their designs to appeal to employees in a work-from-home age? Sara Ross, Director of Corporate Services at Dyer Brown & Associates, which offers interior design solutions to bring together culture, space, and experiences, explains why many companies are refurbishing their offices to entice employees that belong to a post-pandemic era, and which trends they should consider in their space renovations.
Sara's Thoughts
"Building amenities played two major roles in the return to work. One, enticement, and two, the extended stay. Dyer Brown is currently working with a number of building owners and property managers in the Greater Boston area, creating vibrant amenity suites that function well in both roles. The enticement strategy addresses the big challenge: changing employee behaviors to encourage getting out of the house and back to the office.
Everyone agrees that being in the office is ideal for collaboration and client meetings, but people want more things to do and enjoy once they get there. Versatile coffee and grab and go snack areas are great for this. Fitness centers are great too, especially with options like saunas and yoga classes. Relaxation areas, like lounges and meditation rooms, can be good enticements as well. Quiet moments enjoyed in these getaway spots, outside four office walls, are sometimes hard to find even at home.
Extended stay amenities are the ones that keep people in the building longer. Many landlords offer gaming rooms with pool, ping pong, classic arcade games like Pacman and Asteroids, or golf simulators for working on your swing. Most often, these amenities are free of charge to employees of tenant firms. I mean, who doesn't like free stuff? These all make the workplace a hangout spot."
Latest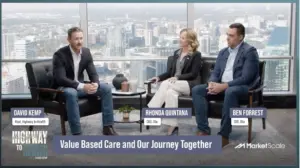 December 7, 2023
As of recent times, the healthcare industry has been progressively shifting towards value-based care, a model that emphasizes patient outcomes over the quantity of services delivered. This transition represents a significant shift that promises to enhance patient experiences and outcomes while controlling healthcare costs. With a growing emphasis on this approach, especially over the […]
Read More