Get Your Fix: Assembling a Strong Service Provider Network
Finding a service provider is never easy. Facilities need someone who will be a partner, will be on site when needed and won't create any additional headaches.
Vixxo not only works with top-class service providers but has assembled a quality service provider network in cities all over North America.
Assembling that network requires a lot of vetting, plus a fair amount of recommendations via other trusted service providers or clients, said Chad Schroeder, Director of Service Provider Relationship Management. Those service providers also must be committed to the task at hand.
"It's a very tight network that we run," Schroeder said. "It is extremely important that, when we bring on those providers, the person we're dealing with at the site level knows that they're the most important person on the phone call every time they call in or every time they have an issue."
Among the ways Vixxo makes sure the service providers meet the standard is requiring 24/7 availability, dispatch allowing for constant communications with technical personnel and companies that are comfortable utilizing technology, such as third-party portals.
"You would be surprised to know that a lot of service providers out there who are happy with their status quo are still doing business all on paper and don't have electronic systems," Scott Smith, VP of Service Provider Management, said. "Having mobile technology that allows you to have an app on your phone that says, 'Hey, I just received this service request from Vixxo. Yep, I've got the request.' Now, we've got an ETA and can communicate with the customer when that technical is going to be on site. When they do get on site, we know they're on site, and, when we leave the site, we know when they've left."
It's just one way Vixxo is making the previous headaches of trying to assemble your own quality service network a thing of the past.
Follow us on social media for the latest updates in B2B!
Twitter – @MarketScale
Facebook – facebook.com/marketscale
LinkedIn – linkedin.com/company/marketscale
Latest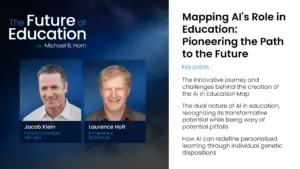 October 2, 2023
Mapping AI's role in education should be a critical step in bringing together innovative technology-based solutions with the expertise of human educators. With rapid advancements in artificial intelligence and an increased reliance on technology-driven educational solutions, the education landscape is on the brink of a significant transformation. AI promises highly personalized learning experiences, efficient administrative […]
Read More