Get Your Fix: Streamlining Installs with Dedicated Partners and Thorough Documentation
Having everything go right in an installation isn't always possible. There are many moving parts and gaps between the manufacturer and end-user. That's why many organizations rely on installation partners to streamline, scale and manage these projects. To offer feedback on this subject, Ryan Baumgartner and Eric Warner of Vixxo joined Get Your Fix and host Shelby Skrhak.
Baumgartner and Warner both have extensive technology experience across many industries and have seen their fair share of installations. Some went well, and others failed.
Baumgartner said many small and midsize businesses run into issues without an installation partner.
"They take on large projects but don't understand the operational footprint need to execute, putting the burden on the retailers to manage the project," he said.
Warner agreed that projects can quickly go awry. "There are schedule and logistics issues. Quality drops many times to make up time. Then, you begin to lose control of costs."
Baumgartner noted that singular installation partners offer "one voice and one direction." A professional project management team, he said, helps find "the sweet spot of ensuring consistency."
One of the most valuable things that installation partners provide is documentation, including smart sheets, pre and post pictures, signoffs, and training.
"Documentation is how you live and die for success. The client can see what you've done through the end. There's also history in the documentation so that, down the road, everyone can see the process," Warner added.
"Without documentation, a lot of time is wasted trying to determine what happened. With it, all stakeholders have access to the information," Baumgartner said.
Latest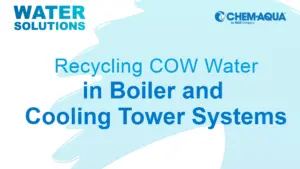 December 7, 2023
For the latest episode of ChemAqua's Water Solutions podcast, the focus was on an innovative approach to water conservation in the dairy industry. The show examined the potential of reusing Condensate of Whey (COW) water, a byproduct of dairy processing, and highlighted some of its economic and environmental benefits. Hosted by Dani Waddell, the informative […]
Read More