Helping Building Owners Navigate New York's Local Law 97
The earth's climate is rapidly changing, and the city of New York is taking groundbreaking action to confront this impending crisis. Through the newly enacted Local Law 97, the city targets one of its most prominent contributors to greenhouse gas emissions: buildings. An ambitious legislative initiative that could influence global urban policy, it plans to slash the city's carbon footprint by 40% by 2030 and a whopping 80% by 2050. With over 50,000 structures targeted for reform, the implications of Local Law 97 on the real estate landscape of New York are monumental.
But what exactly does the implementation of this law mean for building owners, investors, tenants, and the broader city community? How will this legislation shape the future of the New York real estate industry? Could it signal the beginning of a worldwide urban transformation, and are current strategies available to help building owners meet their sustainability goals – or should they also consider alternative solutions?
In this Roof Talks episode hosted by Michelle Dawn Mooney, she and her two guests, Steven Schleider, Senior Managing Director at JLL Value and Risk Advisory, and Dave Schupmann, COO at Fortis, explore the intricacies and implications related to Local Law 97.
Mooney, Schleider, and Schupmann's conversation include the following:
A comprehensive breakdown of Local Law 97, its goals, and the stakeholders most likely to be impacted
The critical role of energy efficiency upgrades and compliance strategies for building owners
The expanding role of renewable energy solutions, particularly solar, in achieving emission reduction targets
Steven Schleider brings an impressive portfolio as the Senior Managing Director of JLL Value and Risk Advisory. He is known for his expertise in commercial real estate valuation, consulting, and risk assessment, and his work spans the entire New York Tri-State Region. His vast knowledge and experience in the industry make him a trusted authority on the implications of Local Law 97 on commercial real estate.
Dave Schupmann serves as the Chief Operating Officer at Fortis, a company renowned for its inclusive warranty and Roof Performance Programs. With his deep understanding of operational strategy and his passion for sustainable development, Schupmann offers unique insight into how Local Law 97 can drive the integration of renewable energy solutions in New York's urban landscape.
Latest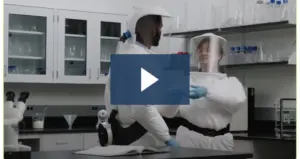 September 25, 2023
On the latest episode of Expert Insights, presented by Benchmark Products, host Jennifer Parker sat down with Greg Steller, National Account Manager for Bullard™, to discuss Bullard's groundbreaking Sightline product. The Sightline respirator, designed for sterile pharmaceutical manufacturing, offers a 320-degree panoramic viewing lens to ensure maximum visibility and reduce operator claustrophobia. Stellar emphasized […]
Read More