IB Roof Systems™ Names 4 Star General Contracting, Inc. Contractor of the Year for Second Consecutive Year
IRVING, Texas, (February 24, 2021) – IB Roof Systems™, a leading provider of complete PVC roofing solutions for flat or low-sloped roofs, names 4 Star General Contracting, Inc., as its 2020 Contractor of the Year. Each year, this award is presented during IB Roof Systems' Contractor Retreat to the customer that embodies the valued characteristics including superior customer service and quality workmanship – and who drives the largest volume of IB Roof Systems' PVC membrane and installation.
"For a second consecutive year, 4 Star General Contracting, Inc. has exceeded our overall award specifications," said Jason Stanley, Chief Executive Officer, IB Roof Systems. "Their commitment to developing long-lasting relationships with clients by providing exceptional customer service and the best roofing systems is a testament to the superior quality of contractors we are proud to work with."
During the 2021 IB Roof Systems Contractor Retreat, several key customers were recognized for their achievements in 2020 as a result of nominations submitted by IB Roof Systems sales representatives, including:
IB Roof Systems honors its valued customers through a long-standing awards program highlighted by five categories: IB Pro, ProSelect, Circle of Excellence, President's Club and Contractor of the Year. Each category is comprised of IB Roof Systems' most regarded and driven customers, but it's the Contractor of the Year Award that is given to a single contractor each year in recognition of both maintaining quality installation standards and highest business volume among IB Roof Systems' authorized contractors.
"Receiving IB Roof Systems' Contractor of the Year, The Stanley Cup Award again this year is an honor to our entire company," said Sean Harshaw, co-owner, 4 Star General Contracting, Inc. "This award is a testament to our commitment to be the best commercial roofing contractor in the western U.S., using the very best products backed by a winning strategy."
About IB Roof Systems
Since 1978, IB Roof Systems has been a nationwide leader in providing high-performance PVC membranes and systems for the commercial and residential industry. With hundreds of millions of square feet installed, IB Roof Systems is committed to offering quality products, exceptional service and unsurpassed technical expertise. The company is headquartered in Grapevine, Texas and has facilities across the U.S. in Oregon, Las Vegas, Chicago and Atlanta to serve contractors in any location. Learn more at www.IBroof.com.
# # #
Contact
Eric Carlisle | Marketing Director | 972.354.6615, eric.carlisle@ibroof.com
Latest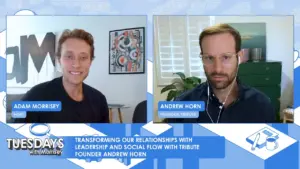 November 28, 2023
Can relationships be transformed through leadership and social flow? Navigating the intricate web of digital relationships can be a tricky proposition. Tuesdays with Morrisey's Adam Morrisey uncovers the transformative impact of emotional recognition in the workplace with Andrew Horn, the mastermind behind Tribute. This podcast edition unravels the story of a platform redefining how […]
Read More