MarketScale Building Management 12/19/18: Managing Energy & Disasters
Today's episode of the Building Management show makes you put your thinking caps on, as well as your safety ones. We dive into facility challenges at Amazon's newest headquarters, the American future of green roofs, and best practices for renewable energy management.
ON THE BEAT: IS AMAZON'S HQ2 PREPPED FOR COASTAL FLOODING?
We recently curated a Forbes piece on Amazon HQ2 and their evacuation plan, or potential lack of one. Their second HQ is set to be split between Virginia and NY, specifically Long Island, an area known for flooding during coastal storms. This move puts Amazon in a tricky position to build a functional, safe and thoughtful new facility with plans in place in case of a disaster. Forbes's contributing writer Chloe Demrovsky, President and CEO of Disaster Recovery Institute International (DRI), breaks down her article and tells us how facility managers in Long Island have already been battling this flooding issue for decades.
As large companies expand and bring in business and economy to an area, challenges come with the territory. The Long Island deal is no exception. Demrovsky loves the Long Island idea but has concerns about the climate, especially with their plan to build right on the water. She pointed out on the podcast that Amazon planners have a lot to think about during this transition. With awareness not as keen as it could be, builders could have their work cut out for them. According to Demrovsky, "it is really important that Amazon take this into account" and be sure to look at all the building codes that regulate this industry in this area, including state and federal rules that not only prohibit certain plans but sometimes conflict with one another. In addition, she reminded listeners that while developers want "build, build, build," truly smart development would "not just look at what is currently an issue but what might be an issue into the future—because presumably, they are not planning to build a facility for only the next ten years."
A THRIVING ROOF MEANS A THRIVING CITY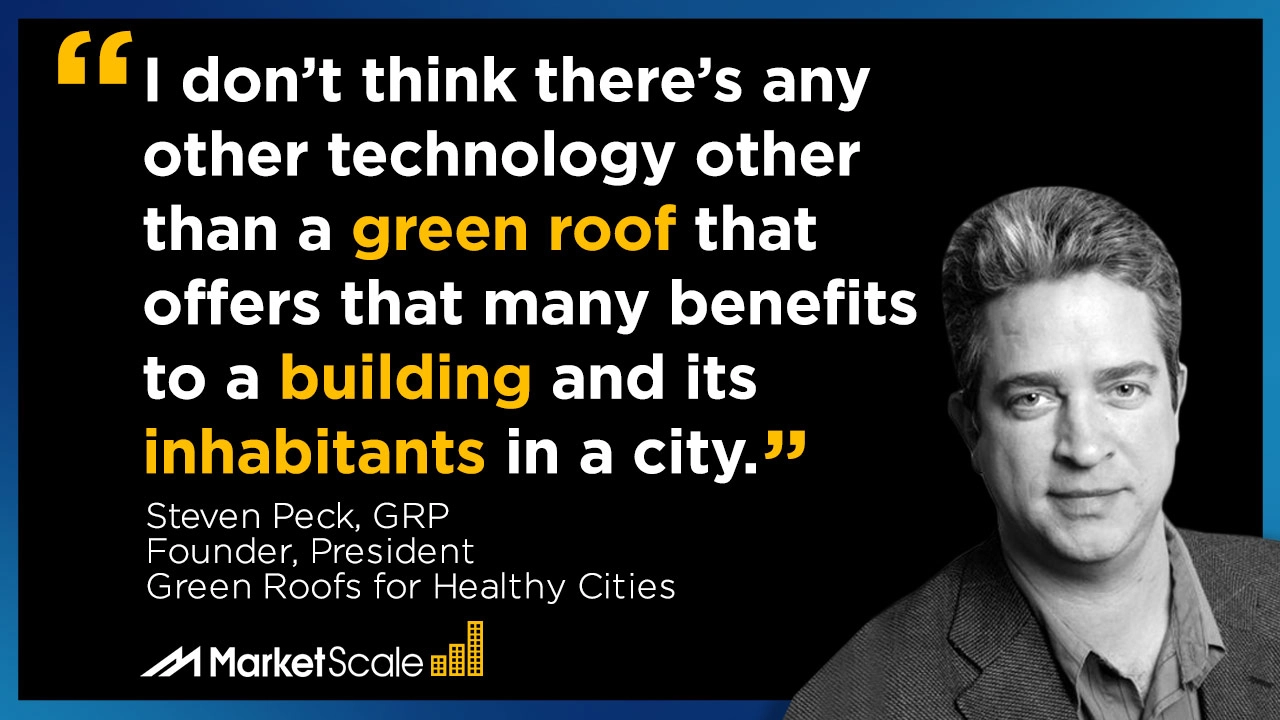 The idea of city buildings topped with gardens is more than a pipe dream or a fad across the seas. Though it's been a European staple for decades, in the last few years the trend has become more viable in America, or at least more present in conversation. While pricier up front, green roofs help save costs over time by keeping buildings cooler in summer months and warmer in winter months, in addition to their ability to purify water, minimize flooding, and counteract global warming. To gain some context on this growing fascination, MarketScale Host Kailey Goerlitz spoke with Canadian company Green Roofs for Healthy Cities, a nonprofit group promoting the planning, designing, and building of green roofs and green walls.
Our guest, Steven Peck, is the founder and president of the organization. In this interview, Peck explained how the group focuses on advocacy through policy support and the development of standards along with hosting events and bestowing awards to green projects. He described a green roof as lightweight in nature, with multiple layers, each with a specific task in promoting healthy cities. One layer, the engineered growing medium, is composed of plants specific to the unique climate and micro-climate. According to Peck, it is critical to integrate vegetation with climate for "optimal support of plant materials over the long term."
Peck explained that while green roofs can be costly at the start, we must keep in perspective that the rooftop is a "functional part of [a] building" that helps that structure run efficiently and smoothly in addition to increasing its aesthetic value. He argued, there's "a lot of ongoing annual and one-time benefits," with an estimated payback of 5 or 6 years, which is just a fraction of the life of the green roof.
HOW DO YOU MANAGE RENEWABLE ENERGY EFFICIENTLY IN YOUR BUILDING?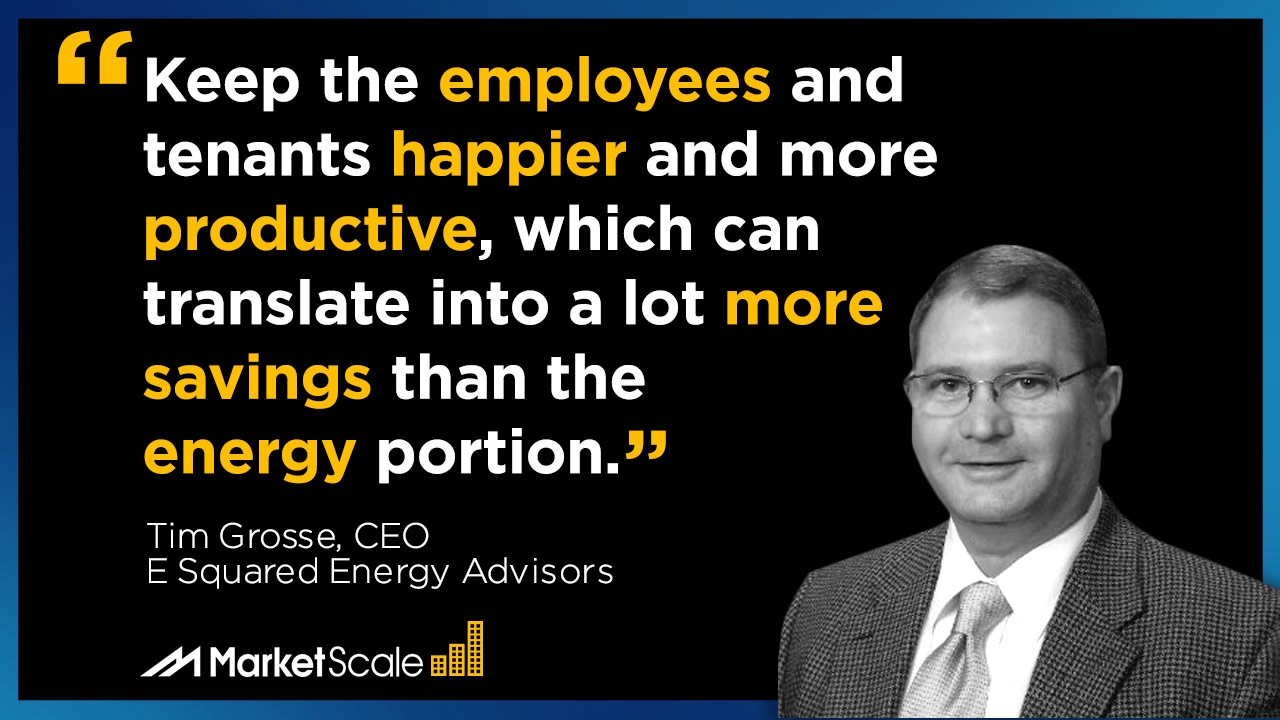 We finish off with a look at smart buildings, which are nothing new—but energy management is still a tricky thing, especially when you're dealing with massive buildings and massive HVAC systems. IoT tech has made these issues more accessible, but it's still not the building standard. Tim Grosse, CEO of E Squared Energy Advisors, thinks it should be, especially if you want your business to thrive financially and in the public eye.
Grosse sees the current energy IoT marketplace as an exciting one with more opportunities and changes than we've seen in 150 years. On the podcast, he compared today to the industrial revolution in that regard, with the huge energy shift from a carbon-based economy to renewables; an energy efficient economy. In fact, entire countries are demanding that buildings reach net zero by 2030 or sooner, so this is a tremendously exciting time to be part of the industry. This greener future is only one tangible benefit, however.
Grosse explained how IoT "enable[s] previously disparate systems to operate together and be monitored and measured in real time" due to all these advancements. This can improve efficiency and even tenant comfort, which translates into worker productivity and an improved financial bottom line. There are countless other areas of IoT innovation, as well, including the areas of chiller optimization, rooftop HVAC optimization, and the ability to retrofit new equipment with old. He analyzes it all and how it's streamlining green facility management.
For the latest news, videos, and podcasts in the Building Management Industry, be sure to subscribe to our industry publication.
Follow us on social media for the latest updates in B2B!
Twitter – @BuildingMKSL
Facebook – facebook.com/marketscale
LinkedIn – linkedin.com/company/marketscale
Latest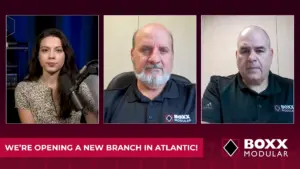 December 4, 2023
In an era where construction innovation is reshaping the industry, modular construction's growth continues to rise. In this episode of Built Modular, Boxx Modular's strategic expansion into Moncton, Atlantic Canada takes center stage. Host Gabrielle Bejarano welcomes Charles Landry and Ray Girouard to explore the implications of this venture. Bejarano, Landry, and Girouard discuss […]
Read More