How Queuing Solutions Empower Better Healthcare
Waiting in line at a healthcare facility has always brought challenges, but those difficulties were heightened as the COVID-19 pandemic raged on.
Nick Eason, National Sales Manager at Nemo-Q, spoke to host Tyler Kern about how Nemo-Q's solutions are helping these facilities be more efficient in their processes, which will continue to help them navigate this unprecedented time and prepare for a future of more efficient lobbies.
"There's a couple of different things we have to factor in when we're talking about waiting in a line," Eason said. "That has become a concern for us because of COVID-19, particularly, and in having social distancing be a factor. Just the influx of people waiting in lines for medical reasons, whether for a normal checkup or a COVID test – all those are a concern. When you add in all of those factors, it needs a more organized lobby flow."
Nemo-Q factors in these concerns to keep wait times down and emergency needs a priority while adding social-distancing protocols and even wait-in-vehicle procedures to keep people safe and on schedule.
"With immune-compromised people, especially in this time, we have to be extra careful on how we are going to handle those patients," Eason said. For these and many other reasons, a wait-in-the-car process makes sense.
When it comes to managing queues and wait times in healthcare, sometimes it's the simple things that matter most to patients. Eason said something as simple as posting wait times on a healthcare facility website could make a difference so people know how long they might have to wait.
Latest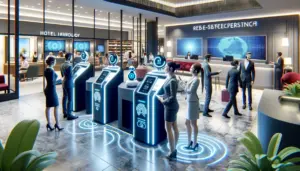 December 8, 2023
Facing critical staffing shortages, over 80% of hotels struggle to fill positions despite offering higher wages and flexible hours, as reported by a recent American Hotel & Lodging Association survey. While slightly improved since May 2022, this situation highlights a significant challenge in the hospitality industry, with housekeeping roles being the most urgently needed. […]
Read More