The Future of Sanitation: The Physical and Mental Challenges Facing the Reopening of Schools
It's a question on nearly everyone's mind at the moment, from parents to politicians – how will kids return to the classroom while the coronavirus pandemic continues?
For John Shanahan, Founder and CEO of Ionogen, the answer could be in devices like Purity Humidifiers and IonoMAX Misters, which he says would sanitize the air and decrease or even eliminate need for masking and social distancing.
Barring that, however, Shanahan said the janitorial staff, often neglected pre-pandemic, must be given the tools they need to succeed.
"Where Bob and Molly the custodians were once thought of as, oh yeah, those people, they're going to have to be the most empowered, well-trained, well-focused people," he said.
Shanahan also said we must make sure the solutions we're deploying match the challenges we're currently facing rather than an outdated way to think about sterilizing spaces.
"We've got to get to that place where we look at sanitizing not as the least important activity we do in the building, but the most important activity. But we have to do it 2020-style. We can't simply go back and say, 'Well, this worked in 1984, so I guess we'll employ it today,'" he said. "The germs are getting smarter, the pathogens are getting more aggressive, and they're moving differently around us, so the future is to embrace technology."
Once students are back in the environment, it's important that not only are they being kept safe physically, but that teachers and staff check in on their mental health, as well.
"I think there's a conversation to be had when they first come back to school, certainly about the sanitizing that John's talking about, but also in the context of, 'Guys, what has it been like for you to have your lives disrupted in a way that no one in living memory has had their life disrupted?'," said clinical psychologist Dr. Chuck Jones. "It's an important conversation for teachers, school counselors, parents, us and anyone who's involved."
Latest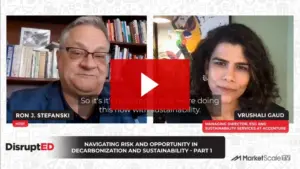 September 26, 2023
The global conversation has shifted dramatically towards decarbonization and sustainability in recent years. With the world experiencing unprecedented levels of disruption, from 5G technology to the challenges of a pandemic, the urgency to address climate change and its implications has never been more palpable. Although most business leaders see the vision of Sustainable Development […]
Read More