What to Keep in Mind as the Holidays Approach
The holiday season is here, filled with many days to celebrate. The hosts of Safety Justice League, Jason Lucas, Abby Ferri, and Jason Maldonado, treated listeners to their second annual holiday special episode. The hosts shared anecdotes, traditions, memories, and more.
The holidays bring times of cheer but can also raise the risk of some safety-related issues. Inclement weather, fewer workers due to time out, and even a holiday part can escalate risk. The group discussed holiday safety meetings. Lucas said, "During a holiday meeting, a superintendent told us all to write down his number, and he'd be waiting at home to give anyone a ride after celebrating."
Ferri added that companies should consider reimbursements for Uber or Lyft to reduce the chance of impaired driving incidents.
The group also acknowledged that the season isn't merry for all. Maldonado said, "Holidays are not great for some, and we should be checking in with people. We don't do that enough in our profession."
Ferri, Lucas, and Maldonado looked forward to new and old traditions, and much of that conversation involved food. Lucas shared, "It's eat whatever I want season!"
As far as gift-giving, there are many safety stocking stuffers that those in the field can enjoy. That includes the Sidekicks items on the Safety Justice League website.
The hosts ended by wishing everyone a happy and safe holiday season.
More Like This Story:
Latest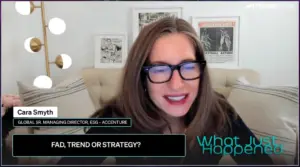 November 30, 2023
The world is in an era where sustainability and responsible retail business practices are increasingly crucial. For the latest episode of "What Just Happened," host Christine Russo further explored the hows and whys of this pressing issue by interviewing Cara Smyth, Global Senior Managing Director for ESG and Responsible Retail at Accenture, and Chair […]
Read More