2020 Dallas 100 Award Ceremony
Clavis Capital Partners, a private investment firm with deep experience investing in, operating and growing U.S.-based industrial businesses, is the fastest-growing entrepreneurial company in the Dallas area, according to the SMU Cox School of Business's Caruth Institute for Entrepreneurship. The Institute's annual Dallas 100, a celebration of the fastest-growing, privately-held businesses in the Dallas area, revealed the area's top entrepreneurial companies in rank order from 100 to one in a virtual ceremony Thursday, Feb. 18. The event marks the Caruth Institute's 30th Dallas 100 awards ceremony. It was live-streamed this year because of COVID-19. The online presentation was facilitated by business-to-business media provider MarketScale, one of this year's Dallas 100 honorees.
The Caruth Institute for Entrepreneurship ranks the area's top 100 entrepreneurial companies based on percentage growth and absolute dollar growth over the previous three years, emphasizing their economic contributions to the Dallas area economy. In this year's Dallas 100 ranking calculation, Clavis Capital Partners exceeded 1,000% growth over the last 3 years, well beyond the collective average growth of this year's 100 companies, which totaled average growth of 106%. This year's Dallas 100 companies basically doubled sales from 2017 to 2019, according to the Caruth Institute's calculations. Factoring all 100 companies together, this year's 100 companies generated over $6 billion in revenue over the past three years.
"Moreover, this year's 100 companies created almost 6,000 jobs between them—about 600 jobs per company," said Simon Mak, executive director of the Caruth Institute of Entrepreneurship. "Quite simply, these entrepreneurial companies are growth engines for DFW, creating thousands of jobs and pumping hundreds of millions of dollars into our economy year after year. That's exactly why we started this annual event 30 years ago: to call attention to the critical impact the entrepreneurial spirit makes on the Dallas economy."
The Caruth Institute, working with the accounting firm BKD, LLP examined sales from hundreds of companies for 2017 to 2019, the last year for which complete data is available. The winners represent Dallas and 14 surrounding cities. This year's Dallas 100 program sponsors, in alphabetical order, are: BKD, LLP; Cushman & Wakefield; Dallas Business Journal; Executive Press; KRLD 1080 News Radio; Mass Mutual DFW; and Texas Capital Bank.
The Caruth Institute is planning to resume holding a traditional event to honor its 2021 Dallas 100 winners in November 2021, assuming COVID-19 protocols allow for a large-scale in-person gathering.
The top 10 fastest-growing DFW companies in 2020 were given special recognition at the event: No.1) Clavis Capital Partners, an investment firm that focuses on manufacturers of industrial products; No.2) Scout & Cellar, a direct-to-consumer producer of wine-based beverages; No.3) Provident General Contractors, a project management firm specializing in multifamily and commercial construction; No.4) Tek Leaders Inc, business intelligence solutions provider; No.5) The Crowther Group, general contractor in retail, healthcare and education; No.6) Cloud Ingenuity, providers of multi-cloud, cyber security network modernization; No.7) Lurin, real estate firm in the manufacturing sector; No.8) Compass Datacenters, providers of custom, move-in ready data centers; No.9) GridLiance, independent electricity transmission; and No.10) Improving, software development, technology management consulting and training services.
A complete list of all SMU Cox Dallas 100 companies for 2020, listed from one to 100, follows:
| | | |
| --- | --- | --- |
| Rank | Company Name | City |
| 1 | Clavis Capital Partners | Dallas |
| 2 | Scout & Cellar | Farmers Branch |
| 3 | Provident General Contractors | Dallas |
| 4 | Tek Leaders Inc | Plano |
| 5 | The Crowther Group | Dallas |
| 6 | Cloud Ingenuity | Carrollton |
| 7 | Lurin | Dallas |
| 8 | Compass Datacenters | Dallas |
| 9 | GridLiance | Irving |
| 10 | Improving | Plano |
| 11 | CONTI Organization | Dallas |
| 12 | o9 Solutions, Inc. | Dallas |
| 13 | Critical Start | Plano |
| 14 | PICKUP Now, Inc. | Plano |
| 15 | Newline Interactive | Plano |
| 16 | TrendHR | Rockwall |
| 17 | Imaginuity | Dallas |
| 18 | OTR: On The Rocks Premium Cocktails | Dallas |
| 19 | Allata | Dallas |
| 20 | Highlands Residential Mortgage | Dallas |
| 21 | CallBox Storage LLC. | Dallas |
| 22 | Dialexa | Dallas |
| 23 | Qentelli Solutions | Dallas |
| 24 | Online Rewards | Richardson |
| 25 | Pediatric Home Healthcare | Dallas |
| 26 | TBX | Plano |
| 27 | Apex Dental Partners | Dallas |
| 28 | Vista Bank | Dallas |
| 29 | Zimperium, Inc. | Dallas |
| 30 | BBG | Dallas |
| 31 | CommunityMed Urgent Care Systems LLC | Addison |
| 32 | Sealink International Inc | Plano |
| 33 | BravoTECH | Dallas |
| 34 | 5 | Irving |
| 35 | HomeVestors of America, Inc. | Dallas |
| 36 | Service Fusion | Irving |
| 37 | iiPay | Dallas |
| 38 | PROLIM Global Corporation | Plano |
| 39 | ResMan LLC | Plano |
| 40 | Techstar Consulting Inc | Irving |
| 41 | Akorbi | Plano |
| 42 | Golden Tree Restaurants LLC | Richardson |
| 43 | Geoforce | Plano |
| 44 | Publishing Concepts, LP | Dallas |
| 45 | REV Robotics | Carrollton |
| 46 | Vesuvius Holdings, LLC | Frisco |
| 47 | Pharmaceutical Strategies Group (PSG) | Plano |
| 48 | Platt Cheema Richmond, PLLC | Dallas |
| 49 | Asset Panda | Frisco |
| 50 | ParkHub | Dallas |
| 51 | JP and Associates Realtors | Frisco |
| 52 | Wildcat Lending | Plano |
| 53 | Pursuit Sales Solutions | Dallas |
| 54 | Anserteam Workforce Alliance | Dallas |
| 55 | Universal Display & Fixtures Company | Lewisville |
| 56 | Utility Concierge | Dallas |
| 57 | Legacy ER & Urgent Care | Plano |
| 58 | PREMIER LOGITECH, LLC | Coppell |
| 59 | Nepris, Inc | Frisco |
| 60 | Emler Swim School | Dallas |
| 61 | Catalyst Health | Plano |
| 62 | Vinli, Inc | Dallas |
| 63 | Agency Partner Interactive | Addison |
| 64 | HealthMark Group | Dallas |
| 65 | M&H Property Tax Consultants, LLC | Dallas |
| 66 | TechGenies LLC | Richardson |
| 67 | PureWine Inc. | Grapevine |
| 68 | Elevate Brand Marketing | Dallas |
| 69 | Sendero | Dallas |
| 70 | STRAIT | Dallas |
| 71 | MarketScale | Dallas |
| 72 | INK+ORO | Dallas |
| 73 | Home Tax Solutions | Dallas |
| 74 | Earthworks, Inc | Lillian |
| 75 | Elite Fulfillment Solutions | Dallas |
| 76 | Mr. Electric of Dallas | Dallas |
| 77 | Tolleson Wealth Management | Dallas |
| 78 | TRIPBAM, Inc. | Dallas |
| 79 | ProVision Brokerage, LLC | Dallas |
| 80 | The Pet Loss Center | Irving |
| 81 | Anders Group | Irving |
| 82 | Seven Tablets, Inc. | Addison |
| 83 | Altruas | Dallas |
| 84 | GuideIT | Dallas |
| 85 | Robokind | Dallas |
| 86 | MedCore Partners, LLC | Dallas |
| 87 | Velo ITG Holdings, LLC | Dallas |
| 88 | Aerospace Quality Research & Development | Addison |
| 89 | Lone Star Analysis | Addison |
| 90 | ISHIR | Plano |
| 91 | Spotio, Inc. | Dallas |
| 92 | Sunwest Communications, Inc. | Dallas |
| 93 | MMC Group, LP | Irving |
| 94 | Nextgen Innovation Labs LLC | Frisco |
| 95 | Smart Business Concepts | Dallas |
| 96 | Appspace | Dallas |
| 97 | Emergicon LLC | Dallas |
| 98 | Signature Automation, LLC | Addison |
| 99 | Lifeblue | Plano |
| 100 | interRel Consulting Partners, LTD. | Arlington |
Latest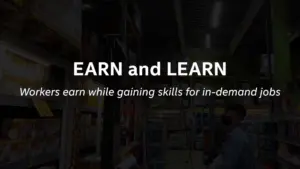 November 30, 2023
Faced with a significant workforce training gap, America is seeing a rise in innovative solutions, notably the earn and learn programs. These initiatives are pivotal in addressing the disconnect between available jobs and the skills of the workforce, particularly benefiting those without a four-year college degree. SkillPointe emerges as a key player in this […]
Read More