As Unemployment Benefits Expire, How Can Businesses Bring Workers Back?
COVID's economic and material disruptions gave many workers, across the blue- and white-collar spectrum, the tools to better analyze what they don't like about their work lives. Inefficiencies of in-office work settings, dissatisfaction around low wages and unsafe work conditions, and insufficient medical benefits were laid bare. And workers responded, in many sectors, by withholding their labor. We all saw the mass exodus from fast food chains & restaurants, for example, during the pandemic, with paper signs on the drive-thru in bold: "We all quit."
Withholding that labor strategically, though, is going to get harder for workers: this week marked an end to COVID unemployment benefit programs, leaving millions without federal aid, and millions more with reduced weekly checks, according to data from The Century Foundation.
How does this change the landscape for low-wage workers who've been holding out for higher pay and better benefits, and how should employers, based on their size and resources, respond to entice workers back?
Shaun Richman, Program Director of the Harry Van Arsdale Jr. School of Labor for SUNY Empire, gave us insights on the situation and what he sees as the solution to smooth the situation for workers and employers alike.
Follow us on social media for the latest updates in B2B!
Twitter – @MarketScale
Facebook – facebook.com/marketscale
LinkedIn – linkedin.com/company/marketscale
Latest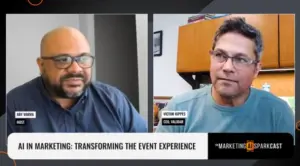 November 28, 2023
AI has been gradually changing the landscape of event technology at a very rapid pace. In an industry where staying ahead of technological trends is crucial, AI's impact on marketing and event management has become increasingly significant. As witnessed in the rise of account-based marketing and enhanced personalization, AI is effectively reshaping how events […]
Read More