Biden Acknowledges US Overreliance on Foreign Supply Chains
President Joe Biden ordered a government review of U.S. supply chains, seeking to end the country's reliance on China and other adversaries for crucial goods. Biden met with a group of lawmakers from both parties at the White House Wednesday afternoon to discuss the semiconductor shortage, and ways to strengthen supply chains. Watch above or read the excerpt below.
—
Biden: The vice president and I had a very productive meeting the bipartisan group of senators and House members to address an issue of both concern to our economic security as well as our national security. The resilience and reliability of our critical supply chains…
…The American people should never face shortages in the goods and services they rely on, whether that's their car or the prescription medicines or the food at the local grocery store…We shouldn't have to rely on a foreign country, especially one that doesn't share our interests or our values in order to protect and provide our people during a national emergency.
*Bloomberg contributed to this content
—
Follow us on social media for the latest updates in B2B!
Twitter – @MarketScale
Facebook – facebook.com/marketscale
LinkedIn – linkedin.com/company/marketscale
Latest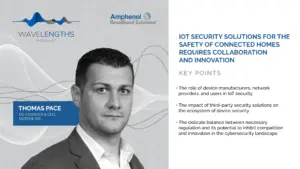 November 28, 2023
Since the introduction of smart devices, the world has increasingly become dominated by interconnected devices but IoT securitydemands are also growing. The "connected home" has shifted from what was once a futuristic concept to reality. With the global smart home market projected to reach $135.3 billion by 2025, the conversation around the security of these […]
Read More