Companies Are More Comfortable Embracing Emerging Technologies to Boost Efficiency
There is a certain finesse to increasing profitability. Howie Rosenthal, Vice President of Customer Success with Blueprint Systems, spoke with Host Tyler Kern and Co-host and Managing Partner at Kelley Austin, Hunter Austin, about how businesses can create new efficiencies to maximize profitability.
A key aspect to business profitability is making sure customers are seeing value in the platform. When Rosenthal joined the Blueprint Systems team 7 months ago, his task was to reinvigorate that environment.
"Today, I lead a team of customer success professionals which covers technical support, delivery, implementation, and just insuring that our customers are always getting value out of the platform," said Rosenthal.
With the company forging a new path forward, Rosenthal is re-committing his customer-focus finesse to improve the growth trajectory. Rosenthal implemented a self-developed framework he called, "LUV…LUV is an acronym. L-U-V which stands for listen, understand, and value your customer."
The key to improving customer regard is to listen, understand, and learn how to solve in a way that can add value and improve efficiencies for the customer and the business.
Currently, some companies struggle to understand the technology they adopted in a rush, "What we're seeing is that customers have lost track of what's actually going on in their technology stacks," stated Rosenthal, "…They know that automation is something they need to do at the enterprise level and they've made that first dive in but now realize 'Hold on, we need to slow down, we need to take a step back, we need to understand and assess what we have before we make any more decisions about how we go forward."
To help those companies, Rosenthal implements strategies which help strengthen and deepen his and his team members' relationship with their customers. He said, "I believe that communication and transparency is really one of the pillars of a successful customer success organization."
By building teams dedicated to helping individual customers needs and strengthening their relationships, Rosenthal's Customer Success team is able to ensure prescriptive, intelligent success.
Latest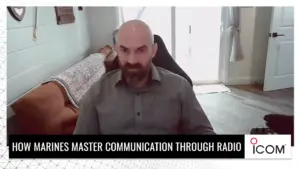 November 29, 2023
Amid the chaos of the battlefield, the mastery of radio communication can mean the difference between victory and defeat. Marine Corps Veteran Jacob Dent provides a comprehensive look at the pivotal role of single-channel radios in ensuring operational success and safety for Marines stationed at Camp Pendleton and in global operations. The video delves […]
Read More